While Some Investors Scoop Up Pennies, You Can Grab Dollars...Special Situation Investing News - 8/13/2015
To kick off today's edition of the Special Situation Investing News, I want to revisit an a stock that I shared an article about yesterday and have written about several times in the past...NorthStar Realty Finance $NRF.  

Fears that the Federal Reserve is going to begin raising rates after several years of a ZIRP aka Zero Interest Rate Policy have caused a massive selloff in all things REIT and MLP related.  There is a number of stable, non-distressed companies out there in these sectors right now that sport double digit yields.  Think about that...investors can either buy a 10-year Treasury note that currently yields a fixed 2.17% OR they can buy a REIT that has a double digit yield that is growing!  The demand for yield is so great that someone out there is actually buying newly issued Puerto Rican debt, even after the country defaulted on its other bonds less than a month ago (LINK).  To me, buying Treasuries over REITs at this point is equivalent to stepping over a dollar that's laying on the ground to pick up a penny.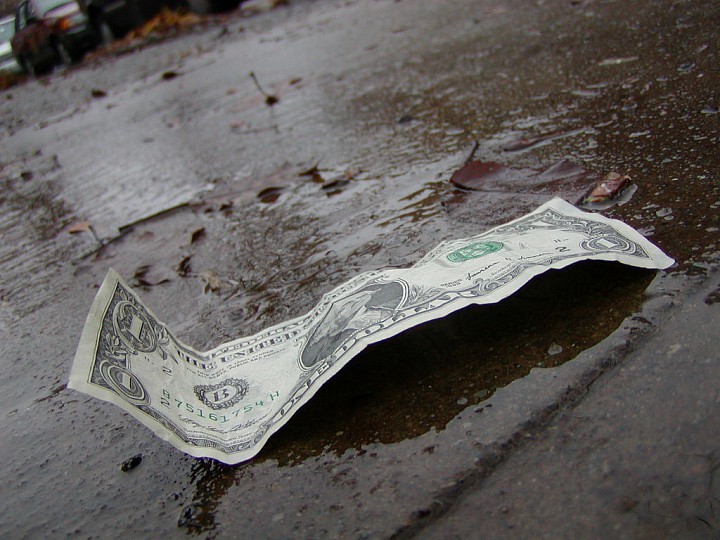 Have REIT investors seen what I believe is a temporary decline in the value of the shares that they hold?  Yes, but bond prices fluctuate as well.  As long as you hold bonds until maturity the daily fluctuation in their prices doesn't matter.  To me, the same principle applies to shares of REITs and MLPs.  You don't actually incur real money losses unless you sell them when their price has dropped.  The value of well-run companies will ultimately continue to grow as time progresses and they return increasing amounts of capital to investors, pay down debt, etc...
I wrote about the REIT selloff here a little over a month ago (LINK).  Since that time, the selloff in NorthStar Realty Finance's shares have continued to decline, making them an even better value today than they were then.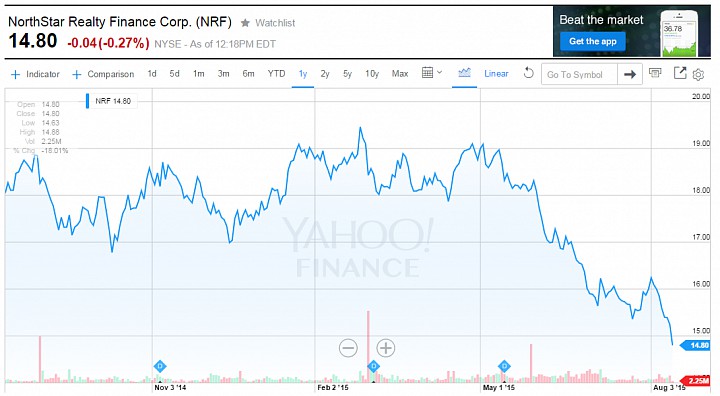 A one-year chart of $NRF (Click to Enlarge)
Shares of $NRF now yield an astonishing 10.39% with ample coverage and catalysts looming on the horizon that could help to bost the stock.  These catalysts include the spinoff of its European assets into a separately traded REIT and a pipeline of over $300 million in purchases with outstanding cap rates.
Does NorthStar Realty Finance have some warts?  Sure.  The company's executive compensation is in my humble opinion absurd. This doesn't bother me that much for two reasons.  One, this may actually change in the future if enough shareholders vote against their pay package.  And two, the company's management is actually doing a good job.  If they were overpaid and doing a horrible job it would be much more offensive.
I have added to my position in NorthStar Realty Finance several times over the past several months and expect that I will likely buy more in the future:
Sources:
The Recent Selloff in REITs Has Created an Amazing Buying Opportunity
http://tmfdeej.whotrades.com/blog/43930679673
NorthStar Realty Finance Corp.: Still Cheap, Still A 10% Yielder
http://seekingalpha.com/article/3429326-northstar-...
And now for the rest of the news:
Spinoffs
Care Capital Properties Has All The Ingredients Of Something Special
http://seekingalpha.com/article/3435686-care-capit...
Spin-Offs Spread as Companies Seek to Lift Valuations
http://www.institutionalinvestor.com/article/34790...
Yahoo: Alibaba's Slide Hurts More Than Taxes
http://blogs.wsj.com/moneybeat/2015/08/12/yahoo-al...
Yahoo's Alibaba stake is worth $12 billion less than when spinoff was announced
http://www.marketwatch.com/story/yahoos-alibaba-st...
Tech Breakups Show Bigger Is Not Necessarily Better
http://www.nytimes.com/2015/08/12/business/dealboo...
Symantec Veritas Sale Avoids Spinoff
http://online.barrons.com/articles/symantec-verita...
.
SPACs
Nomad to Acquire Findus's Continental Europe Business
http://www.nytimes.com/2015/08/14/business/dealboo...
. 
Investment Write-Ups
NetScout one of the few stories with significant catalysts, while trading at a discount to peers
http://seekingalpha.com/article/3432006-netscout-r...
Downside scenario for SUNE in SotP: $22 per share from CS courtesy of Sam Sa @samsa91

Will VEREIT Become A Trusted REIT Brand?
http://www.forbes.com/sites/bradthomas/2015/08/12/...
Below $0.4, Essex Rental Is A Bargain Based On Liquidation Value 
http://seekingalpha.com/article/3426826-below-0_4-...
LaCroix Sparkling Water Is A Billion Dollar Brand Hiding Within A Billion Dollar Market Cap Company 45% Upside
http://seekingalpha.com/article/3431876-lacroix-sp...
A stock bet with a perfect track record
http://www.cnbc.com/2015/08/11/a-stock-bet-with-a-...
 .
Activist Investors
Nelson Peltz Looking To Go Another Round With DuPont
http://seekingalpha.com/article/3434406-nelson-pel...
.
Whale Watching
Einhorn's Greenlight May Get Boost From China Devaluation 
http://www.bloomberg.com/news/articles/2015-08-11/...
Well regarded manager of the JO Hambro UK Dynamic fund, names the out-of-favour shares he has been buying recently.
http://www.telegraph.co.uk/finance/personalfinance...
Interesting new special situation-esque fund. 53rd Street Capital - Quarterly Investor Letter - Q2 2015
http://seekingalpha.com/article/3300205-53rd-stree...
.
Other Investing News
Google's Alphabet is ANYTHING but Elementary
http://tmfdeej.whotrades.com/blog/43428586028
Goldman Sachs sees upside for Hertz Global
http://seekingalpha.com/news/2725736-goldman-sachs...
SoftBank Increases Stake in Sprint With $87 Million Infusion
http://www.bloomberg.com/news/articles/2015-08-13/...
Inside SoftBank's Struggle to Turn Around Sprint
http://www.wsj.com/articles/doubts-grow-about-whet...
Bad news for U.S. aluminum producers, China's Gargantuan Aluminum Exports Poised to Get Even Bigger
http://www.bloomberg.com/news/articles/2015-08-12/...
Activist Target Macy's Profit Trails Estimates After Discounts Hurt Sales
http://www.bloomberg.com/news/articles/2015-08-12/...
A short seller's new target: Canadian housing
http://www.theglobeandmail.com/report-on-business/...
Thanks for reading. While this is a ton of news, I'm sure that there are some interesting things that I have missed. If you've seen one, or have an opinion on something that I've written about (good or even bad) please take a second to give back by sharing it in the comments section. My goal in creating the Special Situation Investing Community was to create a free place on the web where like-minded individuals who love this style of investing like I do can come to discuss it and share ideas. So please, comment, comment, comment. The more dialog we have and ideas we have floating around the better it is for everyone.
Also, if you haven't already, make sure to click on the link at the top of the page to join this new special situation investing community. Doing so will enable you to receive notification when new articles are published here and to share your own ideas. Also, make sure to follow me on Twitter @TMFDeej.
https://twitter.com/TMFDeej
Have a great day!