Once Again Bill Ackman Pitches Fannie & Freddie
Continuing the discussion that I started earlier about the investing roundtable at CNBC's Delivering Alpha Conference, Bill Ackman once again pitched buying shares of the government sponsored enterprises Fannie Mae $FNMA and Freddie Mac $FMCC, sending their shares soaring.
Ackman at Delivering Alpha: Buy Fannie and Freddie
http://finance.yahoo.com/news/ackman-delivering-al...
In retrospect, any time Ackman speaks on a major public platform like this, it would probably be a good idea to purchase shares of Fannie and Freddie for a short term trade.  Their shares always surge when he speaks.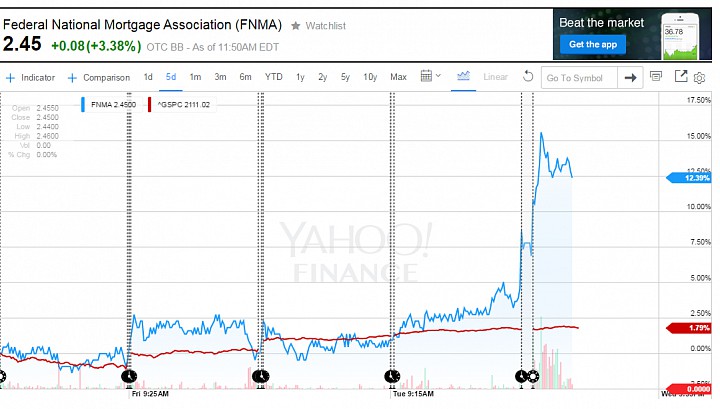 A five-day chart of $FNMA (blue) vs. the S&P 500 (red) (click to enlarge)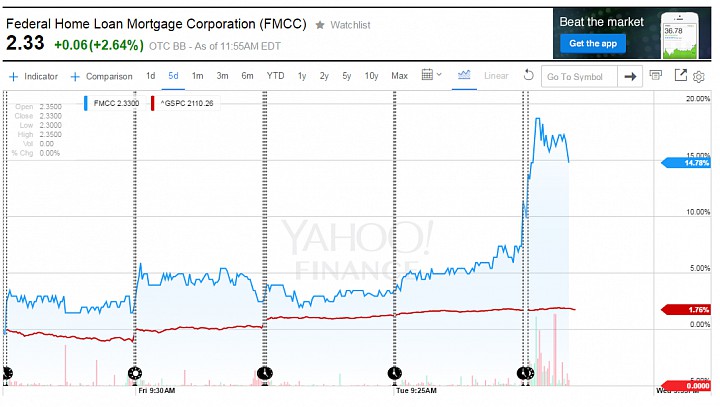 A five-day chart of $FMCC (blue) vs. the S&P 500 (red) (click to enlarge)
Of the two stocks, Ackmann said that they "offers the most upside, probably the most downside of anything we own," adding that he believes the downside scenario is unlikely.  I personally wouldn't be too sure.  While it's an interesting situation to follow, the outcome here is very binary.  Granted potential the upside is probably multiples of the potential downside (100%), improving the odds significantly I am still passing on this special situation.  I just am not well versed enough in the legalities of the battle between Fannie and Freddie shareholders and the government to think that I have an edge in this investment to what has already been priced in.
If anyone out there owns shares of either Fannie or Freddie and would like to talk their book, I'd love to hear your thoughts.
Also, if you haven't already, make sure to click on the link at the top of the page to join this new special situation investing community. Doing so will enable you to receive notification when new articles are published here and to share your own ideas. Also, make sure to follow me on Twitter @TMFDeej.
https://twitter.com/TMFDeej