The Recent Selloff in REITs Has Created an Amazing Buying Opportunity
Early on in my investing career I was heavily involved in bonds.  While I have switched the majority of my portfolio to equities at this stage in my life, the old yield hound in my still has a tremendous influence upon my investing style.  I am now a special situation investor through and through, but if I can find a special situation in a stock that has an attractive dividend yield, all the better.  
Why do I like stocks that pay dividends*?  Because the mercurial Mr. Market can do anything with the multiples that it affords stocks, but an attractive yield is very tough to ignore.  Who's to say that a stock that looks attractive at an EV / EBITDA yield of say 8 today won't trade down to an EV / EBITDA yield of 5?  Nothing would stop it from doing so.  However a dividend yield is a tangible thing.  Investors won't ignore a double-digit yield indefinitely.  If a company's fundamentals are sound, its distribution coverage is strong and its yield is growing eventually the stock will trade higher.  
Lately, the financial media has been filled with "experts" telling us that interest rates are going to rise sharply soon and that investors should sell yield instruments because they will perform poorly in such an environment.  Of course, many of these experts are the same people who have been warning that rates are going to rise for years now.  Yes, it is true that if interest rates rise, the prices of investments with FIXED yields will drop.  However, REITs and MLPs do not have fixed yields.  Well run companies in those sectors are able to grow their yields over time.  In previous articles I have shown data that proves that stocks that pay significant distributions to investors, like REITs, actually do well in a rising rate environment.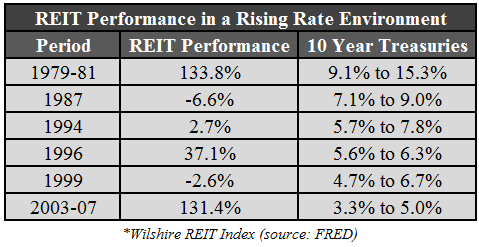 Even though it really doesn't matter for REITs and MLPs whether interest rates are about to rise significantly, let's say for the sake of argument that it does.  Who's to say that interest rates are going to rise as high as many believe.  I am a big believer in the Bill Gross "new normal" theory.  Given significant secular headwinds, the neutral interest rate for today's world is likely several points lower than it has been over the past several decades.
Furthermore, the Black Swam-like events that are happening in Greece and China right now will likely keep U.S. interest rates low for the immediate future as global investors flee "risky" assets for the perceived safe haven of U.S. government bonds.  Just look at how the yield on the 10-year treasury has dropped over the past month: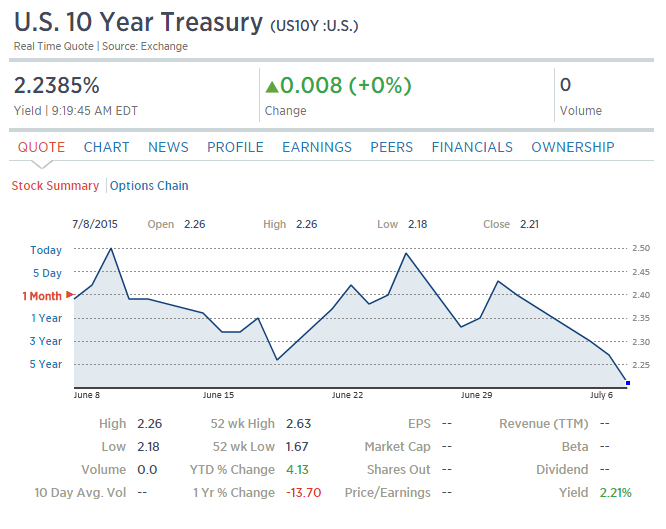 The hawks at the Federal Reserve can talk all they want about how they want to raise the Federal Funds Rate soon, but doing so in an environment like the one that we have now would likely cause the U.S. dollar to soar versus foreign currencies, crushing the earnings power of multi-national U.S. companies and slowing exports.  Unless the issues in Greece and China are resolved soon, it would be a big mistake for the Fed to raise rates in 2015.
As a result of the selloff in REITs over the past several months, the spread between the average REIT yield and the "risk free" yield of U.S. Treasures has widened significantly: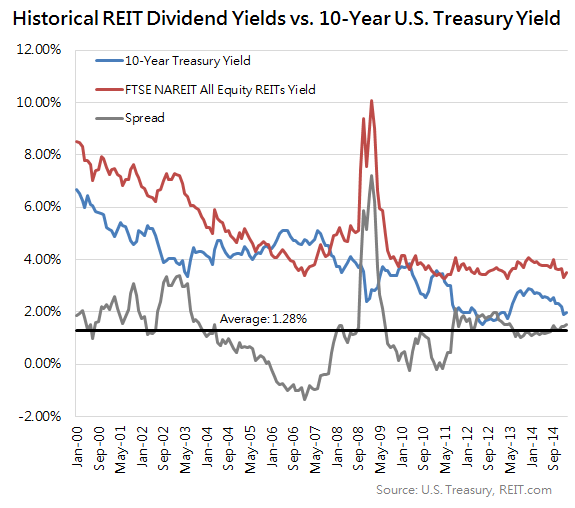 As of yesterday, July 7th, the spread between the 10-year Treasury yield and the FTSE NAREIT All Equity REIT yield average has grown from 0% in mid-2011 to the 1.5%+ that it sits at today.  The spread between yields on Treasuries and REITs now exceeds the average spread over the past 15 years.
Now that I have established my theories that interest rates are not going to rise nearly as quickly as many pundits believe, that the yield spread between Treasuries and REITs has widened significantly signaling a buying opportunity in the latter and that even if interest rates do rise significantly investments with growing yields like REITs and MLPs should still do well, let's talk about some specific names that are extremely attractive at their current level.
All of the following companies have yields that exceed approaching 10%.  And these aren't sucker's yields at struggling companies that will not be able to sustain them, but rather financially sound, companies that have recently raised their distributions and should even be able to grow them more in the future.  I will compare the yield of each company to the average yield of its competitors to illustrate their upside.
.

.
Northstar Realty Finance Corp. $NRF:
Current Yield: 9.98%
Average Yield of "Diversified" REITs: 4.14% (source)
Upside were yield to be in-line with comps: 141%
.
.
CorEnergy Infrastructure Trust, Inc. $CORR
Current Yield: 9.43%
Average Yield of "Infrastructure" REITs: 2.7% (source)
Upside were yield to be in-line with comps: 250%
.

.
New Senior Investment Group Inc. $SNR
Current Yield: 7.6%
Average Yield of "Health Care" REITs: 5.4% (source)
Upside were yield to be in-line with comps: 41%
.
I definitely consider all of the aforementioned stocks to be special situations with the added bonus of amazing yields.  I have written more extensively about a number of them here in my blog.  Make sure to look through my previous articles for more information on them.  I will save an in-depth look at several MLPs that I see similar opportunities in for another article.
Thanks for reading and commenting. If you haven't already, make sure to click on the link at the top of the page to join this new special situation investing community. Doing so will enable you to receive notification when new articles are published here and to share your own ideas. Also, make sure to follow me on Twitter @TMFDeej.
https://twitter.com/TMFDeej
* I know that they're not called dividends in some cases, but for the purpose of simplicity, that is what I am going to call them.