Special Situation Investing News - 8/10/2015

Featuring an article or idea that I find particularly intriguing has become my go to way to introduce the Special Situation Investing News.  Today's featured article comes from this week's Barron's: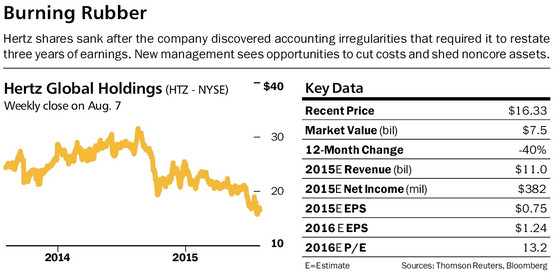 Hertz Shares Could Nearly Double
The rental-car company could be worth almost twice its current stock price. Why Uber isn't a threat.
http://online.barrons.com/articles/hertz-shares-co...
I personally have been long Hertz since mid-2014.  Needless to say, the ride has not been a very pleasant one.  While I am a completely special situation investor with a tilt towards value and yield who is more likely to add to a position when it drops than to sell, something about the way Hertz was trading earlier this year really rubbed me the wrong way.  So I sold part of my Hertz position and reallocated the funds towards ideas that I liked better.  I still own around half of my initial Hertz position.  The initial reasons that I bought it have not changed.  If anything, they have remained but the stock had gotten cheaper.
Since the time I got in, Hertz has become sort of a hedge fund hotel, with an All Star cast of shareholders ranging from King Ichan to JANA Partners.  Perhaps that is part of the reason for the odd trading in the name.  Regardless of the stock's near-term movement, Barron's contends that on a sum-of-the-parts basis (and oh how I love SOTP) $HTZ is worth $30/share versus its current post-Barron's pop (+6.7%) price of $17.
Something that is cheap on a sum-of-the-parts basis is often destined to stay that way without some sort of catalyst that can potentially unlock that value.  Hertz has a number of them on the horizon, including significant potential cost cuts by the company's new CEO and an upcoming spinoff of the company's equipment rental business and a significant buyback using the proceeds.
That's my favorite article of the day, but never fear, there's plenty more Special Situation Investing News:
Spinoffs
W.R. Grace Applies New Name To Spinoff: GCP Applied Technologies
http://www.stockspinoffs.com/2015/08/10/w-r-grace-...
Emergent BioSolutions plans to separate research, manufacturing businesses in spin-off
http://www.baltimoresun.com/business/bs-bz-emergen...
German liability law change would challenge E.ON's spin-off logic
http://www.reuters.com/article/2015/08/07/eon-nucl...
Scripps Networks Interactive: A Company Worth Watching
http://seekingalpha.com/article/3409536-scripps-ne...
Do Tech Breakups Benefit Investors? The Jury Is Still Out
http://online.barrons.com/articles/do-tech-breakup...
The Brooklyn Investor on Mondelez International
http://brooklyninvestor.blogspot.com/2015/08/monde...
A spinoff buying a spinoff: CVR Partners to buy Rentech Nitrogen for $533 mln
http://finance.yahoo.com/news/cvr-partners-buy-ren...
Spinoff Fiesta Restaurant Group Keeps The Party Going
http://seekingalpha.com/article/3422556-fiesta-res...
Are You Sirius? Australian Mining Company To Spin Off Non Core Assets
http://www.stockspinoffs.com/2015/08/09/are-you-si...
PayPal, Baxalta Are The Best Bets In July's Rich Crop of Spinoff Stocks
http://www.forbes.com/sites/antoinegara/2015/07/02...
.
Activist Investing 
LF Partners' Requests Newcastle Investment $NCT Initiate a $100 Million Repurchase or Sell/Liquidate the Company
http://finance.yahoo.com/news/lf-partners-charles-...
What Icahn Wants From Cheniere Energy Stake...
http://www.bloomberg.com/news/videos/2015-08-07/wh...
The Activist Floodgates Are Open, J.P. Morgan Says
http://blogs.wsj.com/moneybeat/2015/08/07/the-acti...
Activist investors' secret ally: big mutual funds (WSJ)
http://www.wsj.com/articles/activist-investors-sec...
Baxter: Meet The New Third Point
http://seekingalpha.com/article/3422386-baxter-mee...
Warren Buffett Throws Cold Water on Mondelez Deal Talk
http://blogs.wsj.com/moneybeat/2015/08/10/warren-b...
.
Whale Watching
Jana Partners Slips Again as Event-Driven Funds Lag
http://www.institutionalinvestorsalpha.com/Article...
Seth Klarman: It Hurts So Good
http://activiststocks.com/blog/seth-klarman-hurtin...
Meb Faber: Has Einhorn has lost his mojo?
http://mebfaber.com/2015/08/04/has-einhorn-lost-hi...
Bill Ackman's full conference call video here
http://www.valuewalk.com/2015/08/pershing-square-c...
Motiwala Capital 2Q15 Letter to investors
https://www.hvst.com/posts/47965-motiwala-capital-...
.
Investment Write-ups
$PICO Holdings Looks Sharply Undervalued. The Barron's pop has resulted in the stock soaring more than 8% today, but keep in mind that $PICO's current management team has proven to be pretty horrible and value-destroying.  I am skeptical about this one.
http://online.barrons.com/articles/pico-holdings-l...
VEREIT, Inc.: This REIT Has Just Become A 6% Yielder Again
http://seekingalpha.com/article/3413706-vereit-inc...
SunEdison $SUNE Earnings Call Comes Up Short.
http://seekingalpha.com/article/3415816-sunedison-...
These Below $8 Stocks Are My Top Turnaround Picks For 2015
http://seekingalpha.com/article/3416406-these-belo...
Movado Group, Inc. $MOV in The Manual of Ideas Deep Value Issue 
http://greenbackd.com/2015/08/07/movado-group-inc-...
.
Other Investing News
AIG Raises Its Payout 124%
http://online.barrons.com/articles/aig-raises-its-...
Walt Disney's Prospects Are Bright, Despite Cable Weakness.
http://online.barrons.com/articles/walt-disneys-pr...
$CTRE -5.5% CareTrust getting beaten up on news of a secondary offering. The Market really hates any REIT / MLP that announces a secondary offering lately. Ironically, these events at well-run companies are accretive. The same people who are complaining about secondaries and selling are probably the same people who would complain if a REIT or MLP wasn't growing. Secondary offerings go with the territory for this type of company.
http://finance.yahoo.com/news/caretrust-reit-inc-a...
Dean Foods Tumbles After Abrupt Resignation of Chairman Davis
http://www.bloomberg.com/news/articles/2015-08-10/...
Warren Buffett's Precision Castparts Matchmaker: Todd Combs
http://blogs.wsj.com/moneybeat/2015/08/10/warren-b...
Thanks for reading. While this is a ton of news, I'm sure that there are some interesting things that I have missed. If you've seen one, please take a second to give back by sharing it in the comments section. My goal in creating the Special Situation Investing Community was to create a free place on the web where like-minded individuals who love this style of investing like I do can come to discuss it and share ideas. So please, comment, comment, comment. Even if it's just to say Hi.  Just say something :).  The more dialog we have and ideas we have floating around the better it is for everyone.
Also, if you haven't already, make sure to click on the link at the top of the page to join this new special situation investing community. Doing so will enable you to receive notification when new articles are published here and to share your own ideas. Also, make sure to follow me on Twitter @TMFDeej.
https://twitter.com/TMFDeej
Have a great day!