Special Situation Investing News - 8/11/2015
Today's featured article for the Special Situation Investing News comes from the recently released quarterly letter to investors from Roumell Asset Management.  I have had success "borrowing" investment ideas from Roumell in the past, but lately the fund has gone on a little cold streak.  Roumell runs a fairly concentrated portfolio, which works great when your high conviction picks are going up, but not so much when they are falling.  Three of Roumell's top holdings fell by a combined 17% in Q2.  Jim Roumell believes that this is only a temporary setback for the fund and that these bets represent a greater value than ever.  It takes a lot of guts to stand by your picks when the market is moving against you, so I commend Jim for his conviction.

One idea in this quarter's letter really caught my eye, Covisint Corporation $COVS.  As you can see by the following chart, Mr. Market has not been kind to the stock since it was spun off from Compuware several years ago: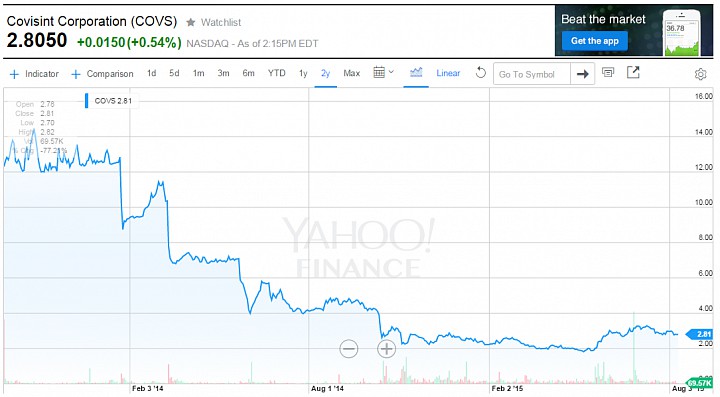 A two-year chart of $COVS (click to enlarge)
Earlier this year, Roumell felt as though the selloff in Covisint's stock had gone too far and that it now represented a tremendous value as a "cash rich, debt free overlooked spinoff".  This phrase obviously interested me as a special situation investor.  Here's a link to and an n excerpt from the write-up:
Roumell Asset Management Second Quarter Summary
http://www.roumellasset.com/pdf/RAM%20Qrtly%20Q2-1...
"Covisint Corp., COVS. COVS was one of our top investments in the first quarter this year. At the time we wrote the following: "Covisint is a cash rich, debt free, overlooked spin-off. With $65 million of sticky, recurring subscription revenue (we give no value to the roughly $20 million in professional services revenue), the company's current enterprise value, using 2015 year-end cash, is just 0.75 times subscription revenue. That compares to typical industry multiples of 2-5 times total revenue. The company has identified long-term targets of 70% gross margins and 20% operating margins versus current margins of 50% and (-17%), respectively." 
Despite growing pains, the distraction of a premature spin-off and newly appointed management team, we noted, "Covisint's technology is well regarded and the company has many loyal, blue-chip customers including GM, Ford, Hyundai, Roche, Cisco and Shell. Customer subscription revenue retention is over 95%. Leading technology industry consultant Gartner said the following in its October 2014 industry report, 'Covisint was one of the first portal vendors to offer a legitimate portal PaaS (platform as a service) offering. The portal PaaS opportunity is likely to grow considerably in the coming years… Covisint's customers have been among the early innovators of the Internet of Things, raising its potential to be part of digital business initiatives...'"
Despite the fact that I have a tremendous amount of experience working in the automotive industry, I actually am not very familiar with Covisint.  I plan on doing more research on the company in the future to determine whether I find this spinoff to be attractive enough for a real money investment:
And now for the rest of the news:
Spinoffs
Best Bargain In Media: Scripps Networks
http://seekingalpha.com/article/3422916-best-barga...
Barnes and Noble Education Lists on NYSE; Executive Chairman on New Growth
http://www.thestreet.com/video/13241724/barnes-and...
EON's Russian Slump Bodes Ill for Uniper Fossil-Fuel Spinoff
http://www.bloomberg.com/news/articles/2015-08-09/...
 .
Whale Watching
One Good Icahn Energy Bet Undoes Several Years of Bad Calls
http://www.bloomberg.com/news/articles/2015-08-11/...
Greenhaven Road Capital Quarterly Letter
https://www.hvst.com/posts/48228-quarterly-letter-...
Longleaf Partners Funds Shareholder Letter
http://longleafpartners.com/sites/default/files/co...
Gabelli Value 25 Fund Inc 2Q15 Commentary
http://www.valuewalk.com/2015/08/gabelli-value-25-...
.
Activist Investing
More Companies Deal With Multiple Activists
http://www.wsj.com/articles/more-companies-deal-wi...
ValueAct Capital: Now Knocking At American Express?
http://seekingalpha.com/article/3426796-valueact-c...
Warren Buffett just crushed Bill Ackman's dream deal
http://finance.yahoo.com/news/warren-buffett-just-...
Rolls-Royce eases break-up fears
http://www.independent.co.uk/news/business/news/ro...
. 
SPACs
Solid quarterly results from this recent SPAC, which I am long. Tecnoglass $TGLS Reports Second Quarter Results 
http://finance.yahoo.com/news/tecnoglass-reports-s...
This REIT Bears Fruit Generated By Grocery-Anchored Tenants 
http://seekingalpha.com/article/3421766-this-reit-...
.
Investment Write-Ups
This is a great write-up that summarizes the recent significant happenings at one of my highest conviction ideas right now. How VEREIT $VER Plans to Rise Out of the Ashes of ARCP 
http://www.fool.com/investing/dividends-income/201...
Hedge Fund Seeing College Bubble Bets Against Companies
http://www.bloomberg.com/news/articles/2015-08-11/...
SunEdison Is Starting To Show Signs Of Strain
http://seekingalpha.com/article/3428786-sunedison-...
Worth looking back at if you never saw it: Elevation Capital's Mondelez $MDLZ presentation from May 2015
http://www.elevationcapital.co.nz/mondelez
A new Elevation Capital Presentation on De La Rue plc
http://www.elevationcapital.co.nz/de-la-rue
Buffett Grabs Another Fifty Cent Dollar with Precision Castparts
https://sumzero.com/headlines/industrials/PCP/281-...
.
Investing News
Hertz Global Holdings Reports Second Quarter 2015 Financial Results
http://finance.yahoo.com/news/hertz-global-holding...
$CORR posted solid quarterly results.  I continue to believe that the recent selloff in its already undervalued shares is completely unwarranted.  I have added to my position. CorEnergy Releases Second Quarter 2015 Results
http://finance.yahoo.com/news/corenergy-releases-s...
Like I've been saying. Dividend-rich oil and energy MLPs are investment bargains now.
http://www.marketwatch.com/story/dividend-rich-oil...
Another tax inversion. U.S. crane maker Terex, Finland's Konecranes to merge.
http://finance.yahoo.com/news/u-crane-maker-terex-...
NTelos Soars 21%: To Be Acquired by Shentel
http://blogs.barrons.com/techtraderdaily/2015/08/1...
What the Heck? Google Restructures as 'Alphabet'; Shares Up 7% A-H
http://blogs.barrons.com/techtraderdaily/2015/08/1...
.
Economics
Why Dismal Pay Growth May Be Here to Stay
http://www.bloomberg.com/news/articles/2015-08-11/...
Oil is getting hammered
http://www.bloomberg.com/news/articles/2015-08-10/...
Oil prices fall after China devalues yuan
http://finance.yahoo.com/news/oil-prices-fall-chin...
The consequences of low rates. M&A deal activity stays on the highway
http://seekingalpha.com/news/2716146-m-and-a-deal-...
. 
Thanks for reading. While this is a ton of news, I'm sure that there are some interesting things that I have missed. If you've seen one, please take a second to give back by sharing it in the comments section. My goal in creating the Special Situation Investing Community was to create a free place on the web where like-minded individuals who love this style of investing like I do can come to discuss it and share ideas. So please, comment, comment, comment.  The more dialog we have and ideas we have floating around the better it is for everyone.
Also, if you haven't already, make sure to click on the link at the top of the page to join this new special situation investing community. Doing so will enable you to receive notification when new articles are published here and to share your own ideas. Also, make sure to follow me on Twitter @TMFDeej.
https://twitter.com/TMFDeej
Have a great day!