Consolidation in the Data Center Sector May Result in Big Gains for Investors
I like eating my own cooking and writing about stocks that I currently own. If you can't write a short article outlining the reasons why you own a stock then you probably shouldn't own it. Having said that, I have already written posts on most of the companies in my portfolio (I post nearly every day, I'd be running an index fund if I owned that many stocks), so today I'd like to highlight an interesting special situation that recently popped up on my radar, but I have not purchased yet.
Word broke this morning that the large U.S. data center operator Equinix $EQIX has finalized an agreement to purchase the UK-based data center company Telecity Group $TLEIY for $3.60 billion.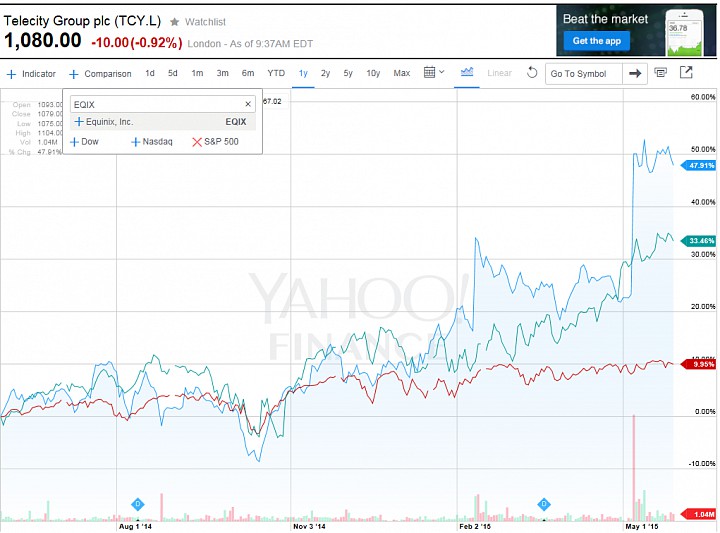 A one-year chart of Telecity's and Equinix's stocks vs. the S&P 500 (Click to Enlarge)
While it's always sweetest when a deal like this is announced and you own the company that is being bought out, I still like reading about buyouts for a number of reasons.  The main ones are that they highlight sectors of the market that may be ripe for further consolidation and they provide data points that one can use to help value potential acquisition targets.
One of the key metrics for any deal, particularly one in the data center sector is EV/EBITDA.  EBITDA is a more relevant statistic than traditional earnings for data center companies because of the massive amount of deprecation that they claim on their hard assets.  Telecity was just purchased at an EV/EBITDA multiple of around 15.9.  So how does that multiple compare to other companies that might be in play as potential acquisition targets in the industry and what companies might be for sale?

One data center company that I came across today might just be on the market.  This morning a Seeking Alpha writer who calls himself "Long-Short Value" published a very timely article on a company called Internap Corporation $INAP.  Kudos Mr. Long-Short for the timely, well-written article.
Internap: Undervalued With An Activist Involved
http://seekingalpha.com/article/3219326-internap-undervalued-with-an-activist-involved?ifp=0
On April 24th, a hedge fund called RDG Capital sent a letter to Internap imploring it to explore a sale of the company.
RDG Capital Recommends Internap Explore A Potential Sale Or Merger To Maximize Shareholder Value
http://www.prnewswire.com/news-releases/rdg-capital-recommends-internap-explore-a-potential-sale-or-merger-to-maximize-shareholder-value-300072351.html
All activists are definitely not created equal, so this news begs the question...who is RDG Capital and are they any good?  As a special situation investor, I follow activist investors fairly closely but I do not recall hearing about RDG previously.  RDG is run by an individual named Russel D. Glass (get it, the firm's name is his initials).  I do not know much about the historical returns of the firm (if anyone does I'd love to hear about them), but Mr. Glass' resume is impressive.  He has spent time at two of the top activist firms in the country, Icahn Associates and Relational Investors.
In its letter to the company, RDG stated that it believes its stock has an "estimated private market value of $16 - $19 per share" compared to its current price of around $9.50.  They arrived at this figure by looking at several metrics, one of which is the aforementioned EV/EBITDA multiple.  Here's what RDG had to say about the company's valuation: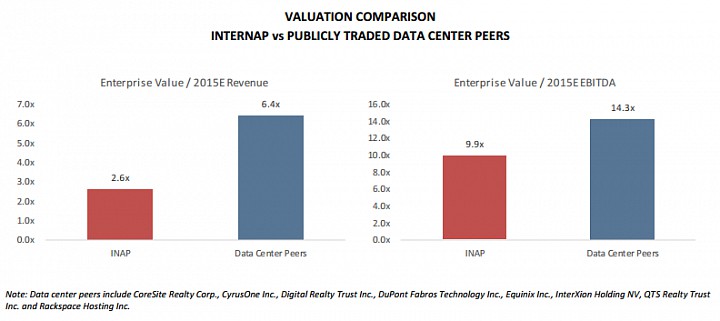 "Whereas comparable data center companies trade at an average 6.4x 2015E revenue and 14.3x 2015E EBITDA, RDG notes that Internap trades at just 2.6x 2015E revenue and 9.9x 2015E EBITDA, representing the lowest valuation multiples in its peer group, notwithstanding the Company having a projected EBITDA growth rate similar to its peers."
To me, these numbers seem a tad generous because A) they are based on estimated forward results, which I rarely look at as an investor unless I think that Mr. Market is giving the company absolutely no credit for future growth that seems obvious to me (Calumet Specialty Products Partners $CLMT was a great recent example of this) and B) this statement was made prior to Internap's worse-than-expected first quarter results.
Even, so it certainly appears to me as though $INAP is currently undervalued. The takeover of Telecity was done at an EV/EBITDA ratio of around 15.9, 30% higher than Internap's current 12.19.  RDG cited several other transations in the sector with higher multiples in its letter
M&A transactions such as Zayo Group's acquisition of Latisys Corporation at 15.3x LTM EBITDA and Telecity Group's acquisition of Interxion Holding NV at 16.4x LTM EBITDA reflect a highly favorable M&A market environment in which data center acquirers are willing to pay attractive valuation multiples.
Of course, there could be a very valid reason for the gap between Internap's valuation and multiples for those deals - those companies could be vastly superior with better assets. I am not familiar enough with Internap yet to make that judgment, but a company with an activist pushing for a sale in a sector that has recently experienced consolidation definitely warrants further investigation.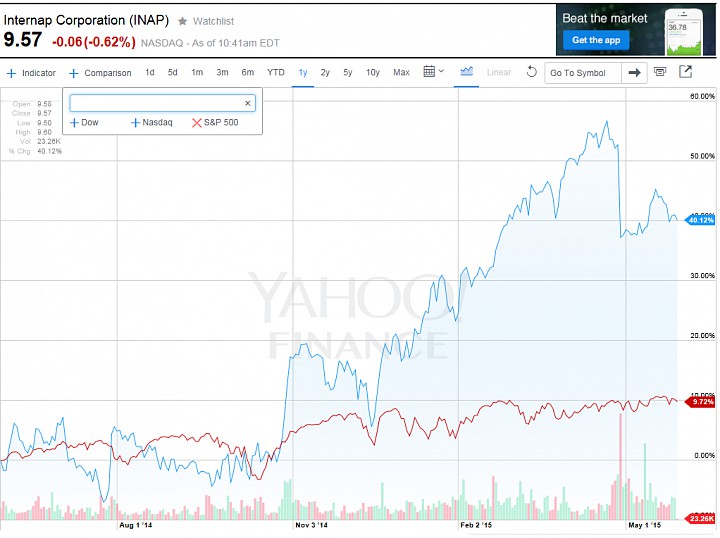 A one-year chart of INAP vs. the S&P 500
Despite cries from investors that Internap's management has done a terrible job, the company's stock has outpaced the S&P by 30% over the past year.  There could be a lot more upside to come if the company is ultimately bought out.