SPAC Warrants That May Yield a 100% Return for Investors...Special Situation Investing News 9/10/2015
Readers of the Special Situation Investing News know that I have become increasingly fascinated with the potentially massive upside of Special Purpose Acquisition Company (SPAC) shares and warrants. I have made a number of bets on companies in this sector, inclu-ding warrants for AgroFresh Solutions $AGFSW, Lindblad Expeditions Holdings $LINDW and Tecnoglass $TGLSW.  All three of these SPACs acquired interesting companies with solid businesses at fairly reasonable valuations.  As an added bonus, by investing in something with potentially tremendous leveraged upside like warrants there's a good chance that I come out in the green if even only one company really takes off.
The recent market volatility has presented savvy investors with tremendous buying opportunities in thinly traded SPACs warrants recently.  I wrote about this phenomenon last month. 
Buy SPAC Warrants on the Cheap During Periods of Market Volatility
https://specialsituationnews.whotrades.com/blog/43...
This morning I came across a great article on Seeking Alpha by Lester Goh that talks about another type of situation that seems to have caused a company's SPAC warrants to be mispriced, under the radar changes to the conversion rules for warrants.
ROI Acquisition Corp. II: Warrants Offer Compelling Upside
http://seekingalpha.com/article/3498096-roi-acquis...
For some background on the situation, it is important to know what ROI Acquisition II $ROIQ is and what it purchased.  ROI is a SPAC that has been looking for an acquisition target for quite some time.  It finally landed on Ascend Telecom Holdings, a private company that owns and develops telecom infrastructure in India.
Anyone who is interested in the specific details of the transaction and more information about Ascend can check out the link to the merger presentation here: Investor Presentation.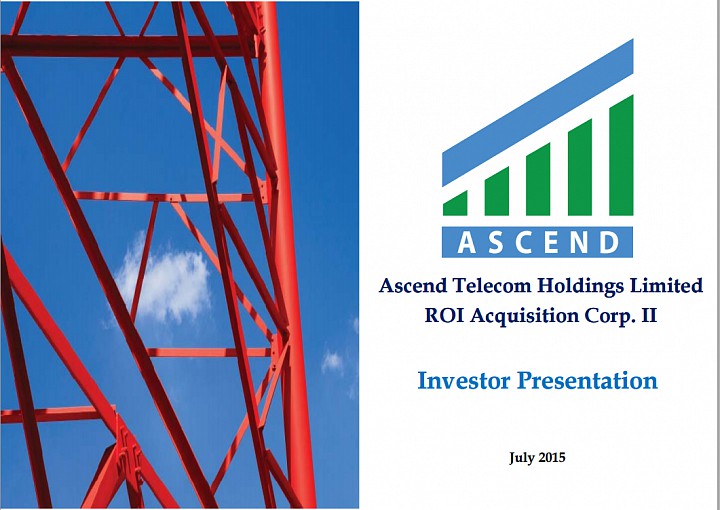 I'm not what you would call an expert on the Indian telecom industry, so at first I was hesitant to buy into this interesting special situation.  However, when ROI Acquisition recently changed the rules for its warrants I became very interested in them.  From the company's August 17th SEC filing:

Here's an explanation of exactly what this change means from Lester's excellent SA article:
"With this change, warrants of ROIQ have theoretically doubled in value.Currently, ROIQ warrants trade at $0.49 and thus offer 100% upside at the very least; if shares move higher, the warrants would be even more valuable. As to why ROIQ decided to sweeten the deal, it is a deterrence measure against "SPAC bandits" (SPAC History, 5th paragraph). Hedge funds purchase the common to vote against the transaction, while shorting the warrants. By allowing warrants to be exchanged for $1/warrant, the hedge fund's economics is vastly better if the transaction goes through, thus eliminating their incentive to vote against the transaction.
I note that ROI's sponsor has opted to forfeit all founder warrants, which gives investors an indication of the level of commitment they have towards the transaction. Usually, investors are wary (and rightfully so, given the history of SPACs) of sponsors who retain their founder warrants, given that they are usually issued at a discount. This incentivizes founders to consummate an acquisition as quickly as possible. Thus, when founder warrants are forfeited, this is a strong indication that founders have taken a long-term view."
After reading this compelling piece and doing some independent research on the situation I decided to purchase ROI Acquisition warrants with real money.
And now for the rest of the Special Situation Investing News:
Spinoffs:
I love the idea of a spinoff that should eventually be afforded a higher valuation by Mr. Market now that it is an independent company. However, 15 times current EV/EBITDA, let alone the forecast 2016 EBITDA that the author uses is definitely too rich for my blood. This is particularly true in a market where I would not be surprised in the least if we see continued multiple compression. FirstService Corp.: Separation Of Residential And Commercial Divisions Uncovers A Wide Moat Business 
http://seekingalpha.com/article/3495106-firstservi...
$ADP Spinoff CDK Said to Field Expressions of Interest From Buyout Firms
http://www.bloomberg.com/news/articles/2015-09-09/...
Bombardier Inc stock jumps most in 4 years after China bid report values company at $8 billion
http://business.financialpost.com/news/transportat...
Bombardier Says Rail Unit `Not for Sale' After Chinese Approach. From the article: "The valuation this company would attract would likely be much higher than where the stock trades today." & "We are exploring initiatives such as potential participation in industry consolidation..."
http://www.bloomberg.com/news/articles/2015-09-09/...
A win for Capital Southwest: The investment company announces spin-off date for new industrial arm
http://www.bizjournals.com/dallas/blog/morning_cal...
Capital Southwest Sets Date And Ratio For CSW Industrials Spinoff
http://www.stockspinoffs.com/2015/09/09/capital-so...
SPX $SPW to Spin-Off Flow Business
http://www.forbes.com/sites/joecornell/2015/09/09/...
Tax concerns on Yahoo's Alibaba stake spinoff prompt target cuts
http://www.reuters.com/article/2015/09/09/us-yahoo...
NYU Professor: Yahoo Should Be Euthanized, and Marissa Mayer Is the Most Overpaid CEO in History
http://www.bloomberg.com/news/articles/2015-09-09/...
$BKS is a Mess. Barnes & Noble Posts $34.9 Million Loss Amid College Spinoff
http://www.bloomberg.com/news/articles/2015-09-09/...
Barnes & Noble Loss Deepens. Retail segment slipped & Nook business drags.
http://www.wsj.com/articles/barnes-noble-loss-deep...
.
Thrift Conversions: 
Second Step Thrift Conversion Form 8-K for PSB HOLDINGS, INC.
http://biz.yahoo.com/e/150909/psbh8-k.html
.
Merger Arb:
Is the Staples-Office Depot deal in jeopardy?
http://www.bizjournals.com/boston/news/2015/09/08/...
FTC Intensifies Antitrust Review of Staples-Office Depot Merger
http://www.wsj.com/articles/ftc-intensifies-antitr...
Time for Perrigo to Shop Itself?
http://blogs.wsj.com/moneybeat/2015/09/08/dealpoli...
.
Activist Investors:
Chanos Battles Carl Icahn Over Cheniere as 'Disaster' Looms
http://www.bloomberg.com/news/articles/2015-09-09/...
Meet Europe's best activist investor
http://fortune.com/2015/08/27/christer-gardell-act...
How Bill Ackman laid siege to Herbalife
http://fortune.com/2015/09/09/the-siege-of-herbali...
A Special Situation In The Micro-cap Space
https://specialsituationnews.whotrades.com/blog/43...
Tom Sandell's found the next Jarden Corp?
https://specialsituationnews.whotrades.com/blog/43...
Icahn casts his eye on Vivus with tender offer for convertible notes
http://www.fiercepharma.com/story/icahn-casts-his-...
Carl Icahn: Copper Whisperer?
http://seekingalpha.com/article/3498876-carl-icahn...
Activist Target Macy's to Close Dozens of Weaker Stores & Open Best Buy Departments
http://www.wsj.com/articles/consumer-electronics-r...
.
Investment Write-Ups: 
Richardson Electronics: A Company Selling Below Its Cash Per Share And NCAV
http://seekingalpha.com/article/3495316-richardson...
Company presentation for $GPT & $CSG Merger
http://ir.gptreit.com/Cache/1500075692.PDF?Y=&O=PD...
Vopak: Upcoming Stormy Weather Made The Market Abandon A Company With Terrific Long-Term Earning Power
http://seekingalpha.com/article/3494596-vopak-upco...
.
Whale Watching:
David Tepper says he's not as optimistic on the stock market as he could be
http://www.bloomberg.com/news/articles/2015-09-10/...
No negotiating with Buffett. His first offer was his final offer for Precision Castparts
http://blogs.wsj.com/moneybeat/2015/09/09/first-of...
A Painful August for Hedge Funds
http://stockpucker.com/blog/2015/9/8/a-painful-aug...
.
Other Investing News:
Chicago Bridge & Iron $CBI can't seem to do anything right on this project. Cost of Nuclear Plants Climbs Again
http://www.free-times.com/news/cost-of-nuclear-pla...
Puerto Rico Investors May Shun Debt-Exchange Offer, Moody's Says
http://www.bloomberg.com/news/articles/2015-09-09/...
Emerging Managers Win Big at 1st SumZero Annual Awards
https://sumzero.com/headlines/financials_and_insur...
Yes, ExxonMobil Could Buy Chevron
http://blogs.barrons.com/stockstowatchtoday/2015/0...
Goldman Sachs Names Six Healthcare Takeout Targets
http://blogs.wsj.com/moneybeat/2015/09/08/goldman-...
Investors Cool Off on REIT Sector
http://www.wsj.com/articles/investors-cool-off-on-...
.
Economics:
7 reasons the Fed won't raise rates next week, according to Deutsche Bank
http://www.bloomberg.com/news/articles/2015-09-09/...
.
Thanks for reading. If you liked the article (or even if you didn't but are just feeling particularly generous), please give it a thumbs up or comment below. Comments and recommendations are how I keep tabs on how many people read and enjoy my work, so please do so...it only takes a second.
Also, if you haven't already, make sure to click on the link at the top of the page to join this new special situation investing community. Doing so will enable you to receive notification when new articles are published here and to share your own ideas.
Lastly, make sure to follow me on Twitter - featuring my new handle:
https://twitter.com/SpecialSitNews
Have a great day!