Noranda Aluminum's Stock is an Easy Double

Yesterday I discussed why I believe shares of Noranda Aluminum $NOR experienced a massive selloff.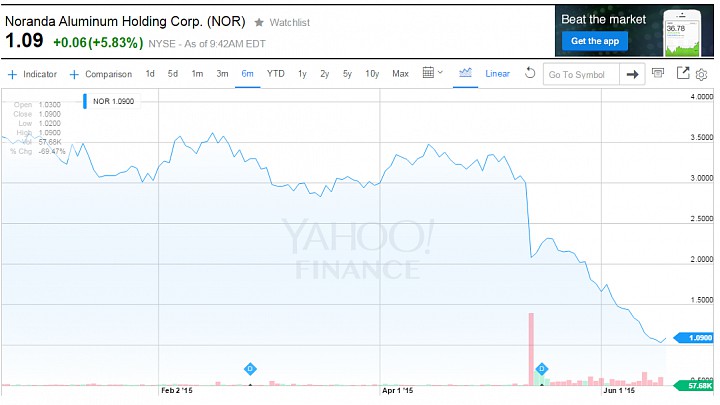 A six-month chart of $NOR vs. the S&P 500 (click to enlarge)
In part two of this series, today I am going to discuss why I believe Noranda's stock has a good chance of recovering.  Investing in commodity-related businesses with high debt levels can be very tricky.  If you buy too early, you can lose your shirt.  However, if you pick up shares of that type of company when it is priced at literally pennies, at the point of maximum pain when everyone is convinced that it is going to go bankrupt huge money can be made.
As you can see from the following chart, the environment for aluminum producers has been absolutely brutal lately: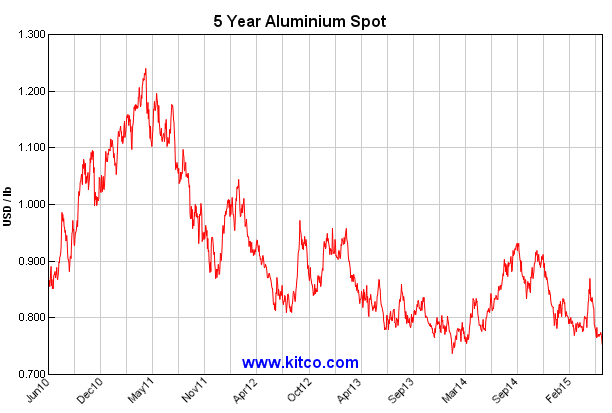 So is aluminum pricing going to recover?  Honestly, I don't know.  I personally believe that trying to guess the direction that the price of a commodity will head in the short-term is a fool's game.  There may be a few select people who have completely immersed themselves in a market as a career who can do it, but I do not believe that I have an edge in that area.  What I do know is that even in this horrible environment for the company's products Noranda Aluminum was cash flow positive last quarter.  Its Q1 operating cash flow came in at $30 million, versus only $20 million during the same period a year ago. Not only is Noranda generating cash, but it has access to $165.4 million in liquidity.  Is that a company that's going bankrupt?  Not in my mind, yet the stock is being priced as though bankruptcy is imminent.
Not only is Noranda on reasonably solid financial footing, the company's management has taken a number of steps to ensure that it is in even better shape in the future.
Fist, the company has already paid for the majority of and has secured financing for the remaining necessary work to be done on a significant plant expansion, a state-of-the-art redraw rod mill at its aluminum smelter in New Madrid, Missouri. This expansion will increase the company's production capacity by an astonishing 43%.  Not only will the new mill be more efficient, but it is situated in an area of the country that gives it a competitive advantage because it provides many aluminum consumers with lower freight costs.  This facility has already been mostly paid for and is nearing completion, yet Noranda is being given no credit for it.  Production at the facility is scheduled to begin in Q2 2016.
Noranda Obtains Project Financing to Complete New Madrid Rod Mill
http://finance.yahoo.com/news/noranda-obtains-proj...
In addition to the new facility that is scheduled to come on-line in the near future, Noranda's management has taken steps to dramatically cut costs.  The production of aluminum requires a tremendous amount of electricity and the company recently renegotiated a key contract with the Missouri Public Service Commission to lower this cost at its New Madrid facility.  The company estimates that its new electricity contract will save it $17 to $25 million annually.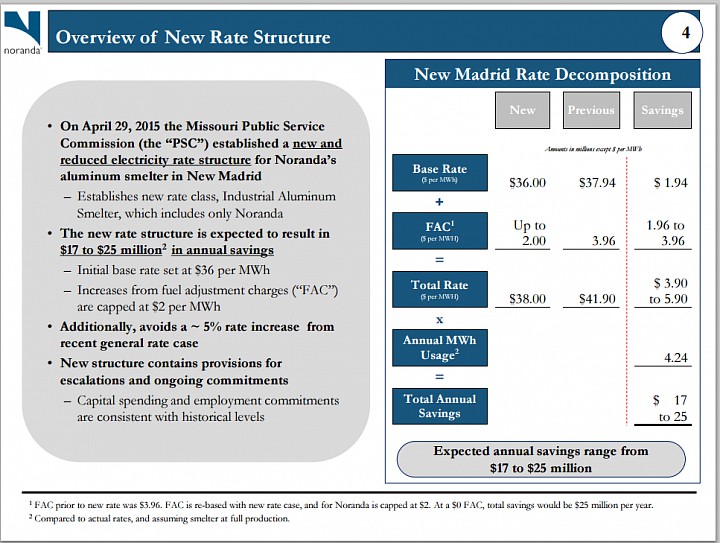 Secondly, as a vertically integrated producer Noranda relies on its Bauxite mines in of all places Jamaica for much of the raw materials that it uses at its facilities.  Jamaica and Noranda recently had a disagreement that threatened to cut off Noranda's Bauxite supply. Despite what I believe are very positive developments in the negotiations between the two parties, $NOR's stock did not rally:
Noranda and Government of Jamaica Reach Interim Agreement; GOJ Agrees to Discontinue Injunction Proceedings
http://finance.yahoo.com/news/noranda-government-j...
Not only are negotiations between Jamaica and Noranda going reasonably well, but Noranda recently spent a significant amount of money investing in a port expansion in the country that will enable it to save another $5 million per year in shipping costs.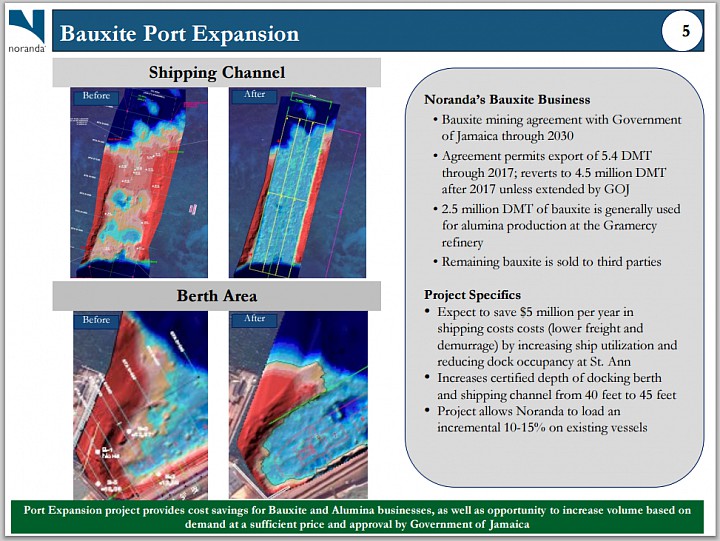 These two key initiatives will save Noranda Aluminum, a company that is already cash flow positive, $22-$30 million annually: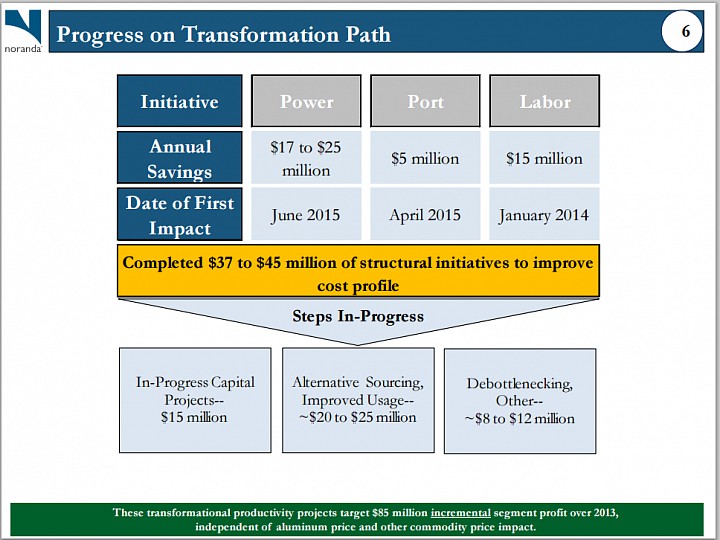 the company has ample liquidity, and no significant debt maturing for several years yet $NOR is being priced as though bankruptcy is is a foregone conclusion.  I strongly believe that not only will the company survive, it's stock is an easy double from the $1/share that I purchased it at.
I'd love to hear others' thoughts on this company or any other special situation investing ideas.  Make sure to join this new special situation community by clicking on the "Join Group" button at the top of the screen and to follow me @TMFDeej on Twiter.