AdCare Raises Dividend Again, A 10% Yield is In Sight

AdCare Health Systems $ADK is a fascinating special situation. The Cliff's Notes version of the story is that AdCare was a money-losing operator of senior living facilities that decided to change course from a lousy facility operator to a REIT-like property owner. The company brought in a new, experienced CEO, Bill McBride, in the fall of 2014 to facilitate the transition and by all accounts he has done a solid job. AdCare announced in late July that it has essentially completed its planned transition from operator to owner:
AdCare Has Now Entered Into Agreements for All 40 Facilities; Signed Agreements to Sublease Three Remaining Properties
http://investor.adcarehealth.com/phoenix.zhtml?c=1...
Despite the fact that the company successfully accomplished this dramatic transition in a timely manner, AdCare has been punished by Mr. Market in conjunction with many other yield instruments over the past year: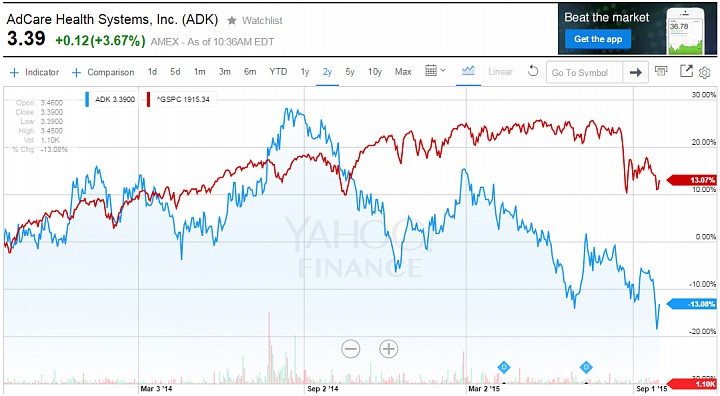 A two-year chart of $ADK (blue) vs. the S&P 500 (red) (click to enlarge)
This morning, the company's stock is up more than 3.5% on news that it has increased its dividend by 9.1% to $0.06 per quarter or $0.24 annually.  This bump pushes the company's yield to an attractive, rapidly-growing 7.3%.
AdCare Board Declares a Quarterly Cash Dividend of $0.06 per Share of Common Stock
http://finance.yahoo.com/news/adcare-board-declares-quarterly-cash-120000005.html
As an added bonus, AdCare has significant accumulated negative earnings on the books so for 2015 its dividends should be treated as a return of capital to stockholders for federal income tax purposes.  This puts the company's effective yield for people in high tax brackets at a much higher level than it initially appears.
With the AdCare transition from operator to owner complete, it has shifted into growth mode.  Earlier this month, the company's growth initiative began when it announced that it has agreed to purchase a new facility for its portfolio.
AdCare Signs Agreement to Purchase Florida Facility for $4.8 million
Company Begins its Acquisition Program with an Agreement on a 55 bed Nursing Facility in the Tampa Bay Area
http://finance.yahoo.com/news/adcare-signs-agreeme...
There's a lot to like about this deal. Even though the facility that they acquired had a purchase price of $4.8 million, AdCare did not have to lay out a lot of money to acquire it. Instead, it assumed an existing HUD loan with attractive terms on the facility and gave seller a little cash. According to today's press release on the deal, AdCare already has a facility operator that it has an existing arrangement with set to lease the facility from it for $420,000 per year, escalating 3% annually. That 8.75% cap rate is especially attractive when one considers how little cash $ADK actually had to lay out. The deal is immediately accretive, netting the company $0.01/share, increasing annually by 3%.
During the company's most recent quarterly conference call, Bill McBride stated that he expects AdCare to be one of the fastest growing REITs in the United States. In fact, in recent discussions with major shareholders, management has indicated that it would like the company's distribution to increase to around $0.08/share in early 2016.  Should that happen, it would put AdCare's dividend yield at an eye-popping 9.4% with ample coverage.
I expect to see the company make more attractive acquisitions its recent one in the future. The faster AdCare grows, the sooner its bloated expenses will become less of a problem. Small companies, often spend a disproportionate amount of money on overhead. When they are sold to a larger company or grow on their own, they gain economies of scale that usually begin to improve their key metrics. In the industry that AdCare operates in General & Administrative expenses generally are equivalent to 5% of companies' revenue on average. As of the most recent quarter, AdCare's percentage stood at an extremely unattractive 15%. If AdCare becomes more efficient as it grows, or just trims some fat now that the restructuring process is behind it, and reduce its General & Administrative expenses by a mere $1 million, it would still be an ugly double the industry average on expenses yet would increase its bottom line by $0.05/share.
REITs have been extremely battered by Mr. Market lately, but with an attractive current dividend yield of 7.3% that will likely grow rapidly in the future as a result of expense reduction and additional acquisitions I strongly believe that good times are ahead for AdCare shareholders.