Time to Buy Mantowac? Special Situation Investing News - 8/12/2015
The featured idea for today's Special Situation Investing News has it all, a major selloff, an impending spinoff and activist investors. The company that I am talking about is Manitowoc $MTW.  

Let's talk about the special situations in the order that I mentioned them. First, the selloff.  Manitowoc's stock has underperformed the S&P 500 by nearly 43% over the past twelve months: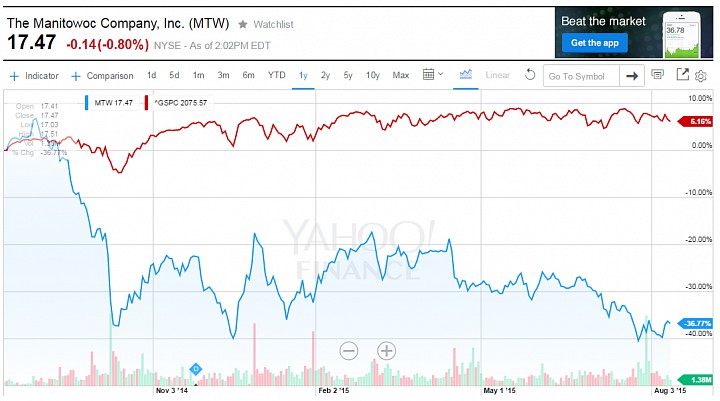 A one-year chart of $MTW (blue) vs. the S&P 500 (red) (click to enlarge)
Ouch.  As a value investor at heart, the more stocks sell off, the more I become interested.  
The second special situation here is a spinoff.  In January of this year, Manitowoc officially announced that it will spin off high-margin foodservice business as an independent company, leaving the more cyclical crane manufacturing business with the former parent.  
The third and final special situation here is the involvement of a number of activist investors.  Manitowoc is yet another example of the phenomenon that we have seen numerous times lately, multiple activist investors attacking the same company.  With $MTW, first Carl Ichan and a pre-Ralph-Whitworth-health-issue Relational Investors took large positions. In June, they were joined by Larry Robbins' Glenview Capital Management.  Collectively these activist investors control more than 20% of Manitowoc's stock.
This large voting stake and board seats give the activists a tremendous amount of influence over the direction of the company. Speculation has begun to surface that they will push for a sale of the its foodservice division after it has been spun off.  According to a recent article on The Deal's blog:
"In its settlement with Icahn the company agreed to a number of governance provisions for the new foodservices company that could make it easier to be sold. Annual board elections, a poison pill threshold limited to 20% and a provision allowing shareholders owning 10% of the outstanding shares to call a special shareholder meeting, are all shareholder-friendly provisions that make it easier for a change of control to take place. Plus, Icahn's general counsel, Jesse Lynn, was installed on Manitowoc's 10-person board in April. Expect Lynn to keep a watchful eye on the company and possible strategic options down the road. (Lynn did not return calls seeking comment.)"
Robert W. Baird analyst Mircea Dobre's recently came out with a sum-of-the-parts estimate (I love these) for $MTW of $25/share, significantly higher than the company's current share price of $17 and change.
I do not currently own $MTW, but as the spinoff approaches I may decide to purchase one or both parts of the company.
Sources:
Manitowoc: Officially Interesting?
http://seekingalpha.com/article/3433046-manitowoc-...
Icahn's next move at almost-split, shareholder-friendly Manitowoc
http://thedealnewsroom.tumblr.com/post/12592967757...
And now for the rest of the news:
Spinoffs
ADP spinoff CDK Global Said to Explore Sale to Private Equity Firms 
http://www.bloomberg.com/news/articles/2015-08-11/...
HP Inc. to Pay Higher Dividend Than HP Enterprise
http://online.barrons.com/articles/hp-inc-to-pay-h...
Hertz Bull Case Is Intact Despite Fender Bender
http://online.barrons.com/articles/hertz-bull-case...
Shentel To Buy Ntelos, End Awkward, Unpronounceable Name
http://www.stockspinoffs.com/2015/08/12/shentel-to...
Solid quarter for spinoff $NXRT +6%. NexPoint Residential Trust Reports Second Quarter Financial Results
http://finance.yahoo.com/news/nexpoint-residential...
Spin Off Index News – S&P Launching Spin-Off Focused Index, Van Eck Launching Spinoff ETF
http://www.stockspinoffs.com/2015/08/11/spin-off-i...
.
SPACs
ROI Acquistion Corp. II: SPAC Acquiring An Attractive Asset In An Explosive-Growth Industry
http://seekingalpha.com/article/3423856-roi-acquis...
.
NOLs
ALJ Regional Holdings: A Nice Acquisition, Expect More
http://seekingalpha.com/article/3424826-alj-region...
SMG Indium Resources: A Shell Company Trading 37% Below Net Cash With Large Hedge Fund Ownership
http://seekingalpha.com/article/3428706-smg-indium...
 .
Activist Investors
Bill Ackman who? Mondelez gives up its activist bounce
http://blogs.wsj.com/moneybeat/2015/08/12/bill-ack...
Voce Capital Calls For Refocusing At FBR & Co
http://seekingalpha.com/article/3432476-voce-capit...
So much for activists' shiny new Macy's position. Earnings miss 'a tough one': Macy's CEO
http://www.cnbc.com/2015/08/12/macys-2q-2015-earni...
Bulldog Investors Bested By Hill International
http://activiststocks.com/blog/bulldog-investors-h...
Southeastern Asset Management Goes Active On CONSOL
http://seekingalpha.com/article/3429156-southeaste...
.
Investment Write-ups
NorthStar Realty Finance Corp.: Still Cheap, Still A 10% Yielder 
http://seekingalpha.com/article/3429326-northstar-...
Williams Partners: A Special Situation Play With An 8%-Plus Yield
http://seekingalpha.com/article/3429856-williams-p...
VEREIT: ARCP's New Name And 3 Takeaways From The Q2 Conference Call
http://seekingalpha.com/article/3430466-vereit-arc...
For regional banks, older, wiser CEOs could auger a sale
http://thedealnewsroom.tumblr.com/post/12642162360...
Mondelez: Bill Ackman's Big Bet Looks Enticing
http://seekingalpha.com/article/3432346-mondelez-b...
The Future Of $GCVRZ
http://seekingalpha.com/article/3427536-the-future...
The Bullish Thesis on Midstream Master Limited Partnerships (MLPs)
http://wallstreetweek.com/read/the-bullish-thesis-...
Credit Suisse upgrades MLP sector, Here are 7 top picks
http://blogs.barrons.com/incomeinvesting/2015/08/1...
.
Whale Watching
Whitebox Tactical Opportunities Fund - The Quarter In Brief
http://www.valuewalk.com/2015/08/whitebox-tactical...
 .
Other Investing News
Note to Media Investors: TV Isn't Quite Dead Yet
http://blogs.wsj.com/moneybeat/2015/08/11/note-to-...
Is Google Really Becoming the 'Berkshire Hathaway of the Internet'?
Google's Alphabet Deal May Lack Tax/Spinoff Advantages
http://blogs.wsj.com/cfo/2015/08/11/googles-alphab...
http://blogs.wsj.com/moneybeat/2015/08/12/is-googl...
General Electric's Sale of Health Care Biz Looks Like a Winner...For Capital One
http://blogs.barrons.com/stockstowatchtoday/2015/0...
Devalued Yuan May Complicate Fed Tightening
http://blogs.wsj.com/moneybeat/2015/08/11/devalued...
Corn prices crushed after USDA unexpectedly raises output forecasts
http://www.bloomberg.com/news/articles/2015-08-12/...
Cheap fuel means motorists are driving further and burning more rubber.  Cheap gasoline is great for tire companies.  Conversely, it's terrible for auto insurance companies because as miles driven increase, so does the number of car accidents.
http://www.bloomberg.com/news/articles/2015-08-11/...
AdCare Reports Second Quarter Results
http://investor.adcarehealth.com/phoenix.zhtml?c=1...
Amira Retains Kasowitz and Commences Legal Action Against Market Manipulators Prescience Point and Spruce Point 
http://www.businesswire.com/news/home/201508110058...
Puerto Rico to Issue $750 Million in Revenue Bonds for Construction. Really?! Who's buying these?
http://www.nytimes.com/2015/08/12/business/puerto-...
Nice quarter for MRV Communications. Asset sale complete.
http://finance.yahoo.com/news/mrv-reports-second-q...
.
Thanks for reading. While this is a ton of news, I'm sure that there are some interesting things that I have missed. If you've seen one, please take a second to give back by sharing it in the comments section. My goal in creating the Special Situation Investing Community was to create a free place on the web where like-minded individuals who love this style of investing like I do can come to discuss it and share ideas. So please, comment, comment, comment. The more dialog we have and ideas we have floating around the better it is for everyone.
Also, if you haven't already, make sure to click on the link at the top of the page to join this new special situation investing community. Doing so will enable you to receive notification when new articles are published here and to share your own ideas. Also, make sure to follow me on Twitter @TMFDeej.
https://twitter.com/TMFDeej
Have a great day!