IPOs Have Been Terrible Investments Lately, But I'm Buying This One...Special Situation Investing News - 9/21/2015
As is often the case during a market pullback, the stock market valuation of many of the companies that have had Initial Public Offerings aka IPOs over the past several years have dropped significantly, including big names like Twitter $TWTR and Alibaba $BABA, to the point that they are trading for less than when their shares debuted.  According to a Bloomberg article from last week, 
Of the 35 companies that went public with a valuation larger than $1 billion and started trading in the past year, 40 percent of them have now fallen below their IPO price. (link).
This is an ugly trend, however there is an IPO this week that I am strongly considering buying into.  It will likely be a fairly under the radar offering that won't double on its first day of trading like Etsy $ETSY did.  In fact, the stock that I am considering buying around the time that it begins trading, doesn't even operate a business yet, it's just a pool of cash run by a group of savvy individuals otherwise known as a Special Purpose Acquisition Company or SPAC called Boulevard Acquisition II.  It's scheduled to begin trading under the ticker symbol $BLVDU on Tuesday.  Here's a brief description of the stock:
Boulevard Acquisition II is a blank-check company that plans to offer 35 million units at an IPO price of $10 million to raise $350 million at implied market cap of about $438 million. Each unit comprises one share of Class A common stock and one-half of one warrant. Each whole warrant entitles the holder to purchase one share of Class A common stock at a price of $11.50 per share, subject to certain conditions. The bookrunner for the offering is Citigroup and co-managers are Sterne Agee CRT and I-Bankers Securities. The units are scheduled to be trading Tuesday on the Nasdaq under the ticker symbol BLVDU. (link)
Why am I interested in purchasing shares of Boulevard Acquisition II?  I think that this chart illustrating the performance of Boulevard Acquisition I says it all: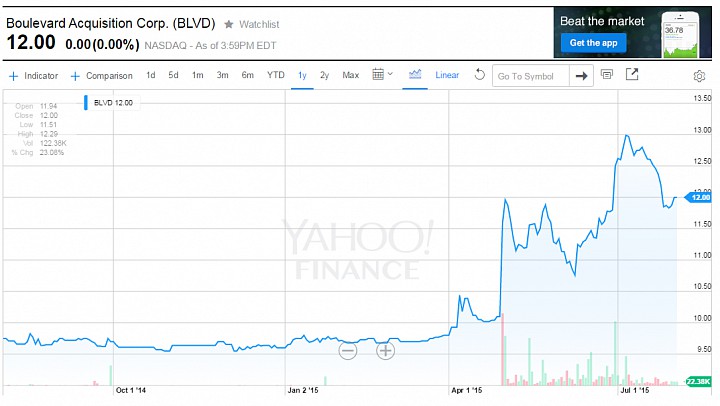 Avenue Capital brought the SPAC called $BLVD public in 2014.  As you can see from the trading action in the stock, investors who get in on SPACs before they announce an attractive acquisition are often able to profit handsomely.  Anyone could have purchased shares of it in the $9.50 to $10 range in the months leading up to when Boulevard announced that it had reached an agreement to purchase a business called AgroFresh $AGFS from Dow Chemical $DOW.  A purchase of $BLVDU this week is a bet that the folks at Avenue Capital can work their magic again.
I highly recommend the following article on the situation to anyone who's interested in this special situation:
Lasry's Boulevard Acquisition Corp. II to raise $350M for acquisition, possible turnaround play 
http://www.thedeal.com/content/private-equity/lasr...
And now for the rest of the Special Situation Investing News:
Spinoffs:
Chemours: Multiple Insiders Buy Shares Of This Beaten Up DuPont Spinoff
http://seekingalpha.com/article/3522796-chemours-m...
Fidelity starts divesting its restaurants
http://nrn.com/blog/fidelity-starts-divesting-its-...
$NRG plans to spin off solar and sell some power plants
http://fuelfix.com/blog/2015/09/18/nrg-plans-to-sp...
With Care Capital A Separate Company, Ventas Is 'Slim And Fit' To Rise
http://seekingalpha.com/article/3520586-with-care-...
.
MLP Conversions:
Petrochemical Stocks Jump As IRS Weighs Rule Change
http://blogs.wsj.com/moneybeat/2015/09/21/petroche...
.
Whale Watching:
Here's why one hedge fund manager thinks Alibaba could be a big fraud
http://fortune.com/2015/09/18/alibaba-faking-numbe...
Merger Arbitrage Interview Series: Roy Behren Of The Merger Fund
http://seekingalpha.com/article/3519536-merger-arb...
.
Activist Investors:
Praesidium Taps Into Flotek, Sandell Wants to Optimize Viavi
http://www.barrons.com/articles/praesidium-taps-in...
The IRS Goes Activist on Jeff Smith, Starboard Value
http://www.insidermonkey.com/blog/the-irs-goes-act...
Activist Investing Daily: Small-Cap Highlights
http://seekingalpha.com/article/3523116-activist-i...
. 
Investment Write-Ups:
A bold call on a heavily shorted stock. Time to Hail Medallion Financial Shares
http://www.barrons.com/articles/time-to-hail-medal...
Buy Sirius XM Cheaper Through Liberty Media
http://www.barrons.com/articles/buy-sirius-xm-chea...
Cool history alone is worth the read. Viad: Clear Growth Strategies With Visible Catalysts Suggest 40% Upside
http://seekingalpha.com/article/3518986-viad-clear...
In-depth Investment Thesis: Civeo
http://www.beyondproxy.com/in-depth-investment-the...
Genworth: 5 Major Upside Catalysts For This $5 Stock
http://seekingalpha.com/article/3523516-genworth-5...
Seeking Japanese Net-Nets As Deep Value Investment Opportunities
http://seekingalpha.com/article/3522406-seeking-ja...
How I Analyze Net-Nets: Stocks Trading at Deep Discounts by Jeroen Bos
http://www.aaii.com/journal/article/how-i-analyze-...
.
Other Investing News:
$TPUB Troubled Tribune Publishing slides 21.7% on guidance cut, downgrade
http://seekingalpha.com/news/2789496-troubled-trib...
Starwood Waypoint, Colony American to Combine in Stock Deal
http://www.bloomberg.com/news/articles/2015-09-21/...
Apple Trees have outperformed Apple stock for almost 35 years
http://www.valuewalk.com/2015/09/apple-trees-vs-ap...
.
Thanks for reading. If you liked the article (or even if you didn't but are just feeling particularly generous), please give it a thumbs up or comment below...it only takes a second.
Also, if you haven't already, make sure to click on the link at the top of the page to join this new special situation investing community. Doing so will enable you to receive notification when new articles are published here and to share your own ideas.
Lastly, make sure to follow me on Twitter:
https://twitter.com/SpecialSitNews
Have a great day!