Anatomy of a Successful Special Situation Investment That Still Has Room to Run
Someone over at Bloomberg published an article last week lamenting the recent underperformance of the quintessential special situation, spinoffs.  The piece, which I will not even justify here with a link, cherry picked the poor first day performance of a few of the myriad of spinoffs over the past few weeks and concluded that the outperformance of spinoffs may be over.  The article's conclusion was completely wrong, according to Bloomberg's own spinoff index, the sector has significantly outperformed over a significant period of time: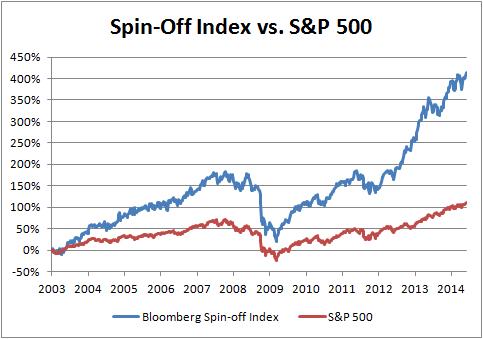 Despite the faulty conclusion of the article, it does highlight the fact that all spinoffs are certainly not created equally.  I have found that one has to choose carefully when they invest in this type of special situation.  Today I want to highlight one spinoff that I recently had a great deal of success investing in and talk about why I believe it has significant room to continue to outperform the markets in the future.

Back in April I wrote here on the Special Situations Community about an investment that I made in a company called NiSource $NI. Here's what I had to say about the special situation at the time:
"Whatever the reason, spinoffs crush the market. The spinoff that I want to talk about today is a company that I purchased a real money stake in last September, NiSource (NI). A pretty decent sized stake for me for an initial position at that. I am tracking that position in m CAPS portfolio as well. I think that it swill has a lot of room to run. As I alluded to earlier, NiSource is an electric and gas utility that announced last fall that it plans to spin off its natural gas pipeline business, Columbia Pipeline Group, into an independent company by mid-2015.
The process has already begun. Before spinning off the entire pipeline business, NiSource elected to create an MLP and spin it off. The company received great news several weeks ago when Columbia Pipeline's IPO priced at $23/share, higher than its expected range of $19 to $21. The deal actually marks a record for the largest MLP IPO ever. Even more interesting, shares of the newly-listed Columbia Pipeline Partners (CPPL) soared over 20% on their first day of trading. I can't say that I'm all that surprised, I've long had a theory that MLP IPOs significantly outperform the market. Here's a post that I wrote on the subject back in 2012:
MLP IPOs have outperformed the S&P 500 by 35% over the past five years!
http://caps.fool.com/Blogs/mlp-ipos-have-outperfor...
So not only did NiSource's remaining utility business just get a massive cash infusion but the 50% of the Limited Partnership that Columbia Pipeline Group still owns, which again will likely be spun off to current NI shareholders by mid-year under the ticker symbol CPGXF, are worth way more than Mr. Market was previously giving them credit for."
When I first read about NiSource's plan to spinofff its pipeline business, I decided that it was cheap enough and that the catalyst was interesting enough that I did not want to dink and dunk and ease into a position. I purchased my decent sized position in $NI on 10/3/14 at $41.14/share.  I swapped that position for Columbia Pipeline Group $CPGX When Issued stock on 7/1/2014 at $45.42/share.  During the period that I held it, $NI returned double the S&P 500 Index, +10.4% to +5%.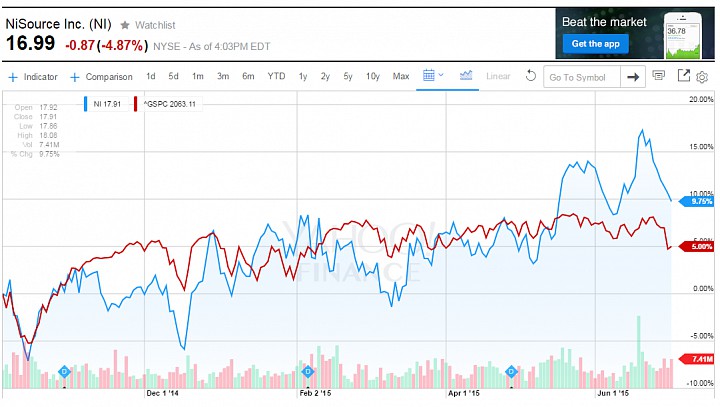 This chart is a little off because it is a post-spin chart for $NI (you know that you're on the right track when you confuse brokers, etc...), but you get the idea.
As I mentioned, when I decided to sell my position in $NI and roll a large portion of the proceeds into Columbia Pipeline Group $CPGX When Issued stock.  For those of you who are not familiar with when issued stock, it essentially enables investors who want to invest in the stock of a spunoff company to do so before it officially begins trading the "regular way."  So far, the decision to swap $NI for $CPGX was a good one...$NI's stock is down -7.62% over the past five days, while $CPXG's stock has risen nearly +8% since it began trading the regular way.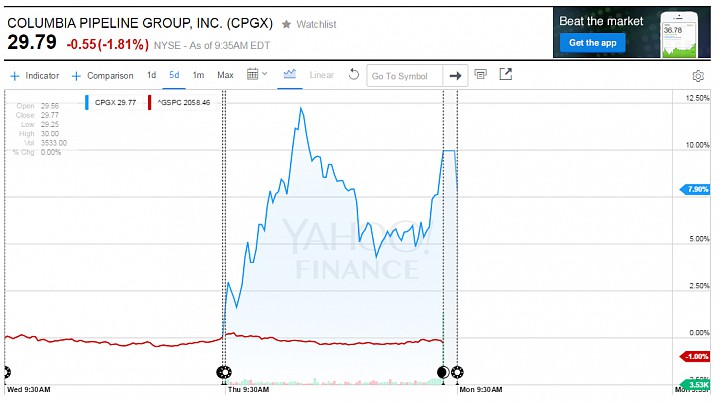 So why did I decide to sell my NiSource shares so quickly?  I had a very strong feeling that it would be the unwanted part of this special situation.  Not only have utility stocks significantly underperformed lately, $NI's valuation was fairly high compared to its peers.  At the time I sold $NI, the utility portion of the business was valued at around $21/share, putting the company's dividend yield at around 2.9%.  That compares to the yield of the average utility of around 3.5%.  It's not like $NI is forecasting any fantastic growth that would justify the premium level that it was trading at.  It's management has stated that investors should expect 4% to 6% dividend growth annually. Were $NI's dividend to trade in line with other utilities, its share price would drop to the mid-$17's.  That's exactly what happened when $NI began trading on its own.  Whew, I avoided that drop.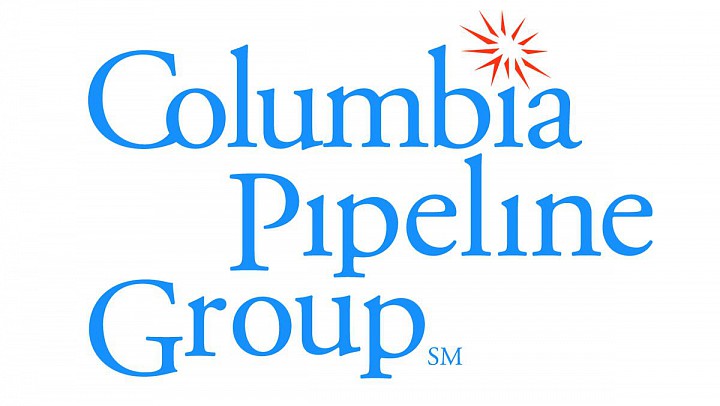 So why do I still like Columbia Pipeline Group's stock so much? One word...growth.  The newly independent natural gas pipeline, midstream and storage company is expected to grow its EBITDA by 20% per year through the year 2020, with very little commodity price exposure.  This rapid EBITDA growth should enable $CPGX to grow its dividend by 15% per year over the same period.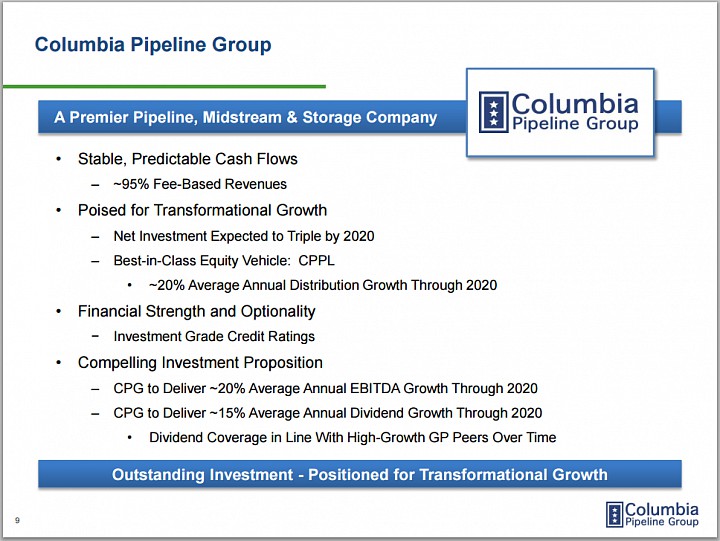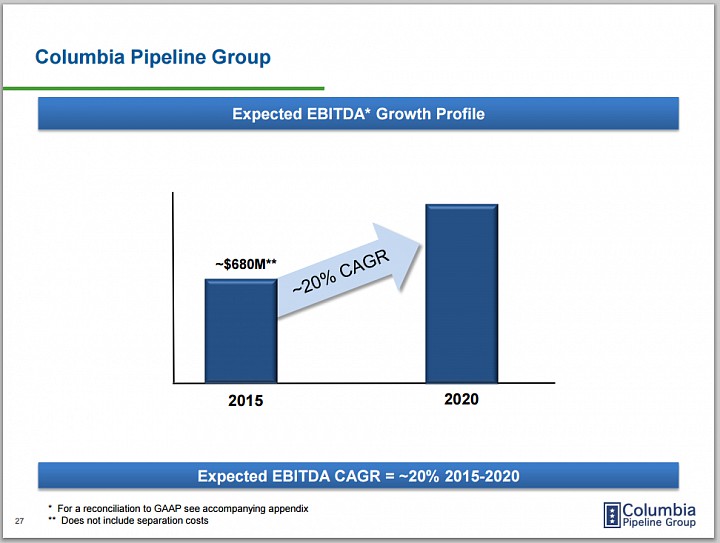 The whole yield instrument sector, including MLPs, REITs, pipelines, utilities, etc has sold off significantly over the past several months as investors flee it like the plague on fears that the interest rates are on the rise.  I personally believe that the selloff has gone too far and that the sector is rife with bargains right now.  Even after its recent rise, Columbia Pipeline Group should be one of them, fueled by its exceptional growth profile.
Thanks for reading and commenting. If you haven't already, make sure to click on the link at the top of the page to join this new special situation investing community. Doing so will enable you to receive notification when new articles are published here and to share your own ideas. Also, make sure to follow me on Twitter @TMFDeej.
https://twitter.com/TMFDeej