Another High-Yield Baby That Has Been Thrown Out With the Bathwater...Special Situation Investing News - 8/19/2015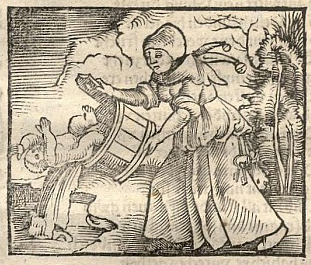 A picture from a work containing the earliest known recorded usage of the phrase "Don't throw the baby out with the bathwater"
The saying "Don't throw the baby out with the bathwater" is fairly common, but I never really thought about its origin until I heard the history of the phrase the other day.  Many people believe that the phrase originates from the practice of entire households sharing bathwater hundreds of years ago...when bathing was much less common than it is today (PU).  The male head of the house would get the first bath, followed by other men in the home, then the lady of the house and so on until the babies were bathed last.  Today this phrase essentially means don't throw away something good while you're trying to avoid something bad.  

I believe that in the mass exodus of investors from the REIT sector many babies are indeed being thrown out with the bathwater. The baby that I am going to discuss today is in an attractive sector that has a significant demographic tailwind and it sports a yield of nearly 9%.  It's name is New Senior Investment Group $SNR.  Run by Fortress Investment Group, a major investment management firm, New Senior was spun off from Newcastle Investment Corp. $NCT in October of last year. As you can see from the following chart, the stock has not done well: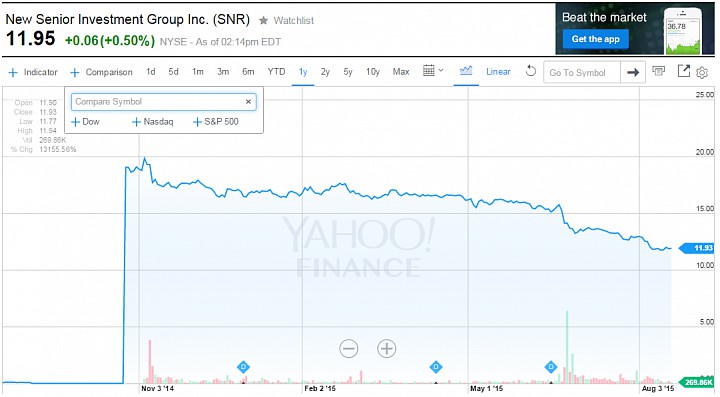 I believe that the selloff of this well-managed senior housing REIT has been overdone.  It now yields nearly 9% with a payout ratio of only 80%.  Moreover, its Its Price to /Funds From Operations (P/FFO) multiple is only 10.9x, which makes it the second cheapest company in its segment.
Not only is New Senior cheap right now, its astute managers have been acquiring assets that have significant room for improvement in their occupancy rates.  As $SNR's works its magic on its newly acquired properties and their occupancy rates increase, the company's yield will continue to grow.  Ultimately, I see New Senior either continuing to acquire attractive assets and grow its already juicy yield or being an acquisition target for one of the larger players in the industry.  Either way, investors win.  I personally have been a shareholder of $SNR since it became an independent company and I have continued to buy shares along the way.
The widely-followed REIT expert Brad Thomas published an interesting article on New Senior over at Seeking Alpha today that investors should definitely check out:
A REIT That Could Return 50% Investing Alongside Fortress
http://seekingalpha.com/insight/alternative-invest...
And now for the rest of the news:
Spinoffs
NTR to Spin Off European Wind Assets to New Holding Company
http://www.bloomberg.com/news/articles/2015-08-18/...
Stock market debut marks first big test for Ventas spinoff
http://www.chicagobusiness.com/realestate/20150818...
Armstrong World Industries: Planned Spin-Off Will Enhance Value Of Ceiling Business
http://seekingalpha.com/article/3445796-armstrong-...
 Forbes' Stiennon Suggests Intel Spin Off McAfee To Restore Growth
http://www.stockspinoffs.com/2015/08/19/forbes-sti...
.
Investment Write-Ups
Windstream Reportedly Looking To Sell Its Hosted Solutions Division
http://seekingalpha.com/article/3446916-windstream...
Symantec: Lots Of Cash But Uncertain Future
http://seekingalpha.com/article/3444766-symantec-l...
Update: Samsung Electronics by Emerging Value Capital Management
http://www.beyondproxy.com/update-samsung-electron...
Sysco: Better Days Ahead With Peltz On Board, But Future Plans Are Still Unknown
http://seekingalpha.com/article/3445256-sysco-bett...
Ultimate Stock-Pickers' Top 10 High-Conviction and New-Money Purchases
http://news.morningstar.com/articlenet/article.asp...
  .
M&A
Deal Volume Heats Up Among Midsize Banks
http://www.wsj.com/articles/deal-volume-heats-up-a...
Informatica: 2 Last Day Filings
http://seekingalpha.com/article/3444886-informatic...
.
Whale Watching
Mario Gabelli: Stock-Picking Treasure or Relic
http://www.wsj.com/articles/stock-picker-mario-gab...
.
Activist Investors
Activist shareholders move to get Rolls-Royce airborne
http://www.marketwatch.com/story/activist-sharehol...
Avis Budget: Taking The Hertz Route?
http://seekingalpha.com/article/3451226-avis-budge...
Korean Sovereign Fund Asks Elliott to Stop Investing in Korea
http://www.wsj.com/articles/korean-sovereign-fund-...
 .
Other Investing News
New Senior Announces Completion of $640 Million Acquisition of Independent Living Assets
http://www.businesswire.com/news/home/201508170062...
BofA's CEO Faces a Stress Test of His Own From Impatient Investors
http://www.bloomberg.com/news/articles/2015-08-19/...
Thank God I got out of this one a long time ago. What a mess. Rayonier Advanced Materials crumbles
http://seekingalpha.com/news/2736286-rayonier-adva...
Amid panic, Rayonier Advanced seeks to clarify lawsuit
http://seekingalpha.com/news/2736636-amid-panic-ra...
Bronte Capital: Questions On Sunedison $SUNE
http://www.valuewalk.com/2015/08/bronte-capital-qu...
A billion-dollar choice for broadcasters
http://thedealnewsroom.tumblr.com/post/12707694221...
Fed may have just gotten a red light for rate hike
http://finance.yahoo.com/news/fed-may-just-gotten-...
More ammo for the doves. Consumer Prices in U.S. Increased Less Than Forecast in July
http://www.bloomberg.com/news/articles/2015-08-19/...
The Capital Spectator: Weak Inflation & Sluggish Growth Raise Doubts About A Rate Hike
http://www.capitalspectator.com/weak-inflation-slu...
DoubleLine's Gundlach says 'bad idea' for Fed hike with junk bonds at four-year low
http://finance.yahoo.com/news/gundlach-says-bad-id...
Crude Tumbles to Six-Year Low After Unexpected U.S. Supply Gain
http://www.bloomberg.com/news/articles/2015-08-18/...
These 10 Countries Will Have the World's Biggest Populations By 2050
http://www.bloomberg.com/news/articles/2015-08-18/...
.
While this is a ton of news, I'm sure that there are some interesting things that I have missed. If you've seen one, or have an opinion on something that I've written about (good or even bad) please take a second to give back by sharing it in the comments section. My goal in creating the Special Situation Investing Community was to create a free place on the web where like-minded individuals who love this style of investing like I do can come to discuss it and share ideas. So please, comment, comment, comment. The more dialog we have and ideas we have floating around the better it is for everyone.
Also, if you haven't already, make sure to click on the link at the top of the page to join this new special situation investing community. Doing so will enable you to receive notification when new articles are published here and to share your own ideas. Also, make sure to follow me on Twitter @TMFDeej.
https://twitter.com/TMFDeej
Have a great day!