Special Situation Revisited: Nomad Foods Resumes Trading, Enabling Investors to Hop on This Potential Compounding Machine
This morning I experienced the most riveting television that I have ever seen in CNBC.  It was a panel discussion, hosted by Jim Cramer, with the world-famous activist investors Bill Ackman and Nelson Peltz from today's Delivering Alpha Conference.  I learned more listening to that discussion than I would normally learn in a month of listening to the normal talking heads on the netwtork.  Ackman and Peltz can be prickly pears and they have their detractors, but no one can doubt their brilliance and investing acumen.
The super investors touched upon a number of topics, but it is one that they only briefly spoke about that intrigued me the most.  Back in early June I talked about a new company that Bill Ackman and Martin Franklin created out of a SPAC to roll up businesses in the food industry, Nomad Foods.
Up 80% Already, This Stock has the Potential to Grow Hundreds of Percent for Investors
http://tmfdeej.whotrades.com/blog/43071850943
In the piece, I compared the potential for Nomad to that of several other serial acquirers that Franklin and Ackman are involved in, Jarden Corporation $JAH and Platform Specialty Products Corporation $PAH.  The following charts illustrate how wildly successful these similar investments have been for early investors: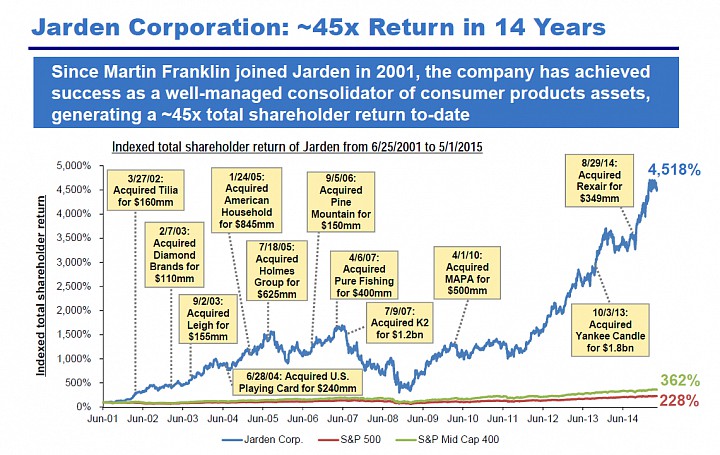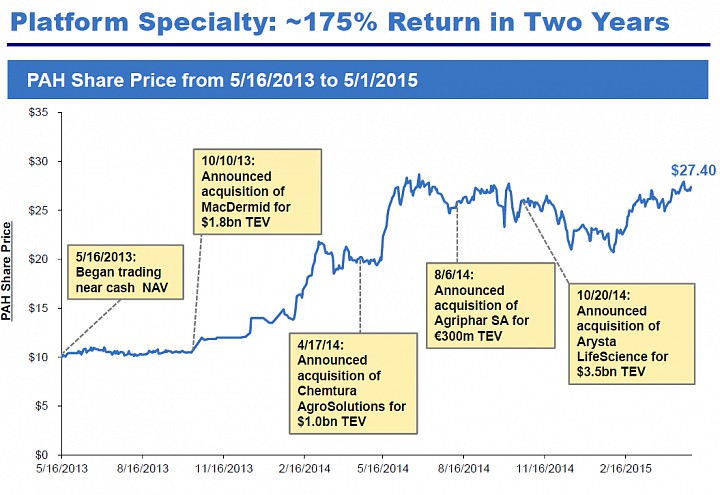 The New York Times published a fantastic, must read story about Martin Franklin and his impressive track record at these companies earlier this week:
Martin Franklin Adds 2 More Deals to a Long List
http://www.nytimes.com/2015/07/14/business/dealboo...
This morning Ackman stated that he sees great things ahead for Nomad, which has a similar business model in a different industry, hinting that major food conglomerates, specifically including The Kraft Heinz Company $KHC, may divest a number of well-known brands in the coming years that would fit well into Nomad Foods' portfolio.
At the time I wrote my earlier piece on Nomad, trading in its shares was suspended pending the review of a number of acquisition announcements.  Shares have since resumed trading on its home exchange in London under the ticker symbol NHL and in the U.S. OTC under the symbol $NOMHF.
Nomad Foods Limited Announces Publication of Prospectus and Expected Readmission to Trading on London Stock Exchange
http://www.prnewswire.com/news-releases/nomad-food...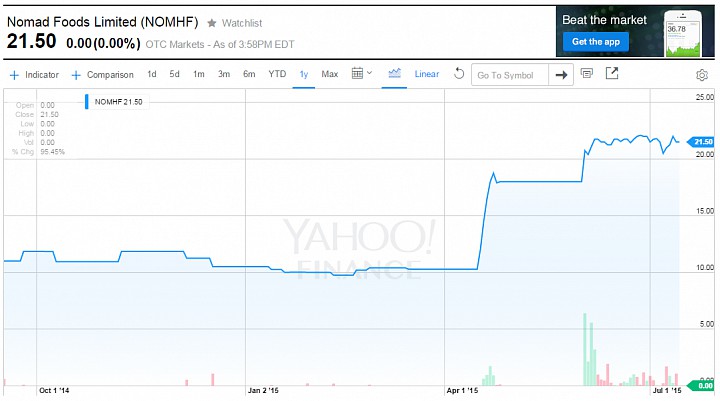 A one year chart of $NOMHF (click to enlarge)
As you can see, when trading resumed shares of Nomad popped again from $18/share to over $21 where they have settled in a trading range.  While this represents a doubling of the stock since its birth as a SPAC, if it ends up being anything like Platform or Jardine this increase is just the tip of the iceberg.  I have been attempting to purchase shares of Nomad through both my broker's global trading platform and OTC without any luck.  My broker is often very difficult to deal with when it comes to obscure stocks like this. I expect to hear back from them in response to my request to purchase shares later today.  If anyone out there currently owns shares of Nomad, I'd love to hear what broker you use.
Thanks for reading. I will report back with any equally fascinating special situation investing news that comes out of the Delivering Alpha conference. If you are in attendance or hear anything interesting please share your thoughts in the comments section below. 
Also, if you haven't already, make sure to click on the link at the top of the page to join this new special situation investing community. Doing so will enable you to receive notification when new articles are published here and to share your own ideas. Also, make sure to follow me on Twitter @TMFDeej.
https://twitter.com/TMFDeej