With Restructuring Complete, AdCare Switches to Growth Mode...Special Situation Investing News - 9/22/2015

AdCare Health Systems $ADK is a fascinating special situation that I have written about several times here on the Special Situation Investing News. I published my first article on the company in April of this year:
From 0.0% to 9.7%, the World's Greatest Secret Dividend Growth Story
https://specialsituationnews.whotrades.com/blog/43...
The Cliff's Notes version of the story is that AdCare was a money-losing operator of senior living facilities that decided to change course from a lousy facility operator to a REIT-like property owner.  The company brought in a new, experienced CEO, Bill McBride, in the fall of 2014 to facilitate the transition and by all accounts he has done a solid job.  AdCare announced in late July that it has essentially completed its planned transition from operator to owner:
AdCare Has Now Entered Into Agreements for All 40 Facilities; Signed Agreements to Sublease Three Remaining Properties
http://investor.adcarehealth.com/phoenix.zhtml?c=1...
Despite the fact that the company successfully accomplished this dramatic transition in a timely manner, AdCare has been punished by Mr. Market in conjunction with many other yield instruments over the past year: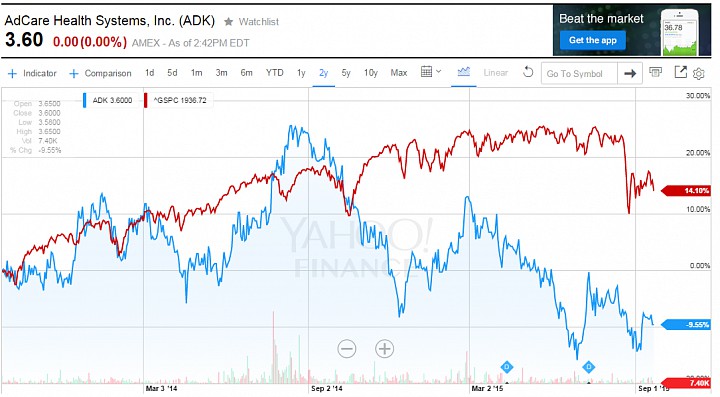 A two-year chart of $ADK (blue) vs. the S&P 500 (red) (click to enlarge)
With the transition complete, many investors wondered what was next for AdCare?  One of the company's largest shareholders, Chris Doucet, filed a 13D and sent a letter to AdCare in late June urging it to use the proceeds of its fairly recent preferred stock offering (which with a yield of 10.75% I personally disliked immensely) to buy back stock and make acquisitions.  Here's what I wrote about the news at the time:
A New Activist Position in AdCare Could Cause the Stock to More Than Double
https://specialsituationnews.whotrades.com/blog/43...
This morning news that broke that makes it appear as though AdCare's management received Mr. Doucet's message loud and clear:
AdCare Signs Agreement to Purchase Florida Facility for $4.8 million
Company Begins its Acquisition Program with an Agreement on a 55 bed Nursing Facility in the Tampa Bay Area
http://finance.yahoo.com/news/adcare-signs-agreeme...
There's a lot to like about this deal.  Even though the facility that they acquired had a purchase price of $4.8 million, AdCare did not have to lay out a lot of money to acquire it.  Instead, it assumed an existing HUD loan with attractive terms on the facility and gave seller a little cash. According to today's press release on the deal, AdCare already has a facility operator that it has an existing arrangement with set to lease the facility from it for $420,000 per year, escalating 3% annually.  That 8.75% cap rate is especially attractive when one considers how little cash $ADK actually had to lay out.  The deal is immediately accretive, netting the company $0.01/share, increasing annually by 3%.
During the company's most recent quarterly conference call, Bill McBride stated that he expects AdCare to be one of the fastest growing REITs in the United States.  So, expect more attractive acquisitions like this in the future. The faster AdCare grows, the sooner its bloated expenses will become less of a problem.  Small companies, often spend a disproportionate amount of money on overhead. When they are sold to a larger company or grow on their own, they gain economies of scale that usually begin to improve their key metrics.  In the industry that AdCare operates in General & Administrative expenses generally are equivalent to 5% of companies' revenue on average.  As of the most recent quarter, AdCare's percentage stood at an extremely unattractive 15%.  If AdCare becomes more efficient as it grows, or just trims some fat now that the restructuring process is behind it, and reduce its General & Administrative expenses by a mere $1 million, it would still be an ugly double the industry average on expenses yet would increase its bottom line by $0.05/share.
REITs have been extremely battered by Mr. Market lately, but with an attractive current dividend yield of 6.1% that will likely grow rapidly in the future as a result of expense reduction and additional acquisitions I strongly believe that good times are ahead for AdCare shareholders.
And Now for the rest of the Special Situation Investing News:
Spinoffs:
Ashland announces plan to separate into two independent, publicly traded companies
http://finance.yahoo.com/news/ashland-inc-announce...
Ashland to Separate Valvoline Business Following Review
http://www.bloomberg.com/news/articles/2015-09-22/...
NorthStar Realty Finance Aug. Presentation with details of European Spinoff
http://phx.corporate-ir.net/phoenix.zhtml?c=185725...
Are Investors Too Pessimistic About Tegna?
http://seekingalpha.com/article/3522586-are-invest...
Shire Still Trying To Make A Deal Work for Baxter Spinoff Baxalta
http://www.stockspinoffs.com/2015/09/22/shire-stil...
Brazil's Hypermarcas mulls spin-off of consumer units
http://www.reuters.com/article/2015/09/21/hypermar...
Covisint Is A Cash Rich, Debt Free, Overlooked Spinoff
http://seekingalpha.com/article/3524076-covisint-i...
Spinoff Halyard Health: Insiders Step Up To Buy Shares Near 52-Week Lows
http://seekingalpha.com/article/3524346-halyard-he...
.
NOLs:
Steven Kiel Of Arquitos Capital Talks NOL Investing
http://www.valuewalk.com/2015/09/arquitos-capital-...
.
SPACs:
Garnero Group Rights: Quadruple Or Nothing
http://seekingalpha.com/article/3522896-garnero-gr...
.
Merger Arb:
Staples, Office Depot Tumble on Report That Deal May Get Blocked
http://www.bloomberg.com/news/articles/2015-09-22/...
Health Insurers Push for Mergers, Playing Down Antitrust Concerns
http://www.nytimes.com/2015/09/23/business/aetna-a...
.
Activist Investors:
Activist Investor Marcato Capital Discloses 6.3% Stake in LPL Financial
http://www.wsj.com/articles/activist-investor-marc...
Joel Lawson Activist Targets Anchor Bancorp
http://activiststocks.com/blog/anchor-bancorp
Activist Target ConAgra Reaps Less Than It Sows
http://www.wsj.com/articles/conagra-reaps-less-tha...
Voce Capital Active On Air Methods Corp.
http://seekingalpha.com/article/3524446-voce-capit...
.
Whale Watching:
Warren Buffett Increases Phillips 66 Position Again
http://www.marketfolly.com/2015/09/warren-buffett-...
.
Investment Write-Ups:
Short Case for Allied Minds (ALM LN) A Venture-Capital Junk Drawer for 3x NAV
http://www.scribd.com/doc/282369341/Allied-Minds-A...
Why DuPont Can Gain 30% $DD "value creation levers available, cost cutting, returning cash, splitting company, M&A
http://blogs.barrons.com/stockstowatchtoday/2015/0...
Like I said here last week: This Company is the Biggest Winner From Anheuser Busch, SABMiller Hook Up
http://blogs.barrons.com/stockstowatchtoday/2015/0...
Sparton Corp. $SPA: 10x Cash EPS, a Solid Business Model, and a Management Team Getting Back to What They Do Best
https://www.hvst.com/posts/51020-sparton-corporati...
Value Investment Idea: Long Magic Software
https://www.hvst.com/posts/50580-value-investment-...
. 
Other Investing News:
China's rising output, price rout deepen aluminum industry gloom $NOR
http://finance.yahoo.com/news/chinas-rising-output...
How the aluminum industry's glut is stinging Noranda
https://www.nashvillepost.com/blogs/postbusiness/2...
Lumber Liquidators Still In 'State Of Flux,' Piper Jaffray Warns
http://www.benzinga.com/analyst-ratings/analyst-co...
.
The Big Short was a great book. The movie looks good too. Here's the new trailer: The Big Short Trailer (2015) ‐ Paramount Pictures
Thanks for reading. If you liked the article (or even if you didn't but are just feeling particularly generous), please give it a thumbs up or comment below...it only takes a second.
Also, if you haven't already, make sure to click on the link at the top of the page to join this new special situation investing community. Doing so will enable you to receive notification when new articles are published here and to share your own ideas.
Lastly, make sure to follow me on Twitter: 
https://twitter.com/SpecialSitNews
Have a great day!