A Hidden Way to Invest in One of the Hottest Trends in the Market Today
Smart capital allocators love insurance companies.  Several famous hedge fund managers operate reinsurance companies, such as Dan Loeb's Third Point Reinsurance Ltd. $TPRE and David Einhorn's Greenlight Capital Re $GLRE. Even the godfather of them all, Warren Buffett owns a massive insurance company, GEICO, as part of Berkshire Hathaway $BRK-A.  Why do all of these smart investors love running insurance companies so much? The float.
So what is the float?  When you buy insurance, you give the company that you are purchasing your policy from money in advance in case something terrible were to happen to you at a later date, such as a car accident, fire, etc...  After you buy your policy, the insurance company that you purchased it from has on a big pile of cash that they have to do something with.  That my friends is the float.  Insurance companies that are run by smart investors can take this cash and grow it over the years by making smart investments.
One insurance company came up with a novel way to allow individual investors to invest directly in its float, without having to purchase shares of its insurance operations.  That company is Fidelity National Financial $FNF. For years, Fidelity National Financial has been putting the float from its core title insurance operations to work in its investment arm Fidelity National Financial Ventures $FNFV.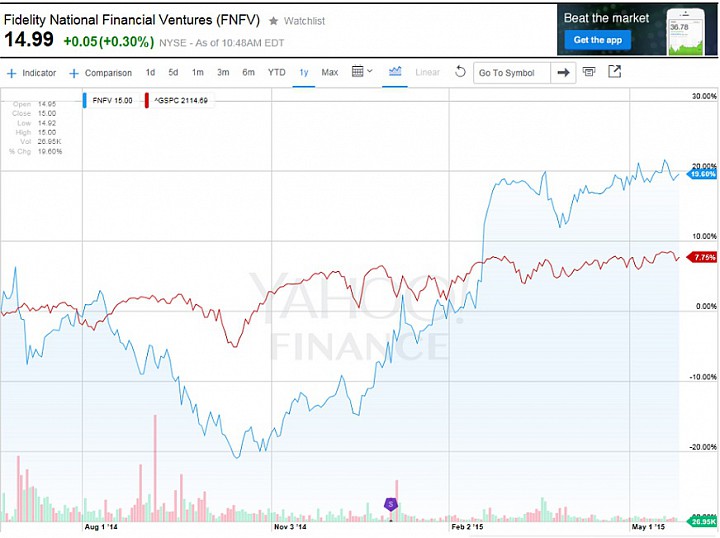 A one-year chart of $FNFV (blue) vs. the S&P 500 (red) (Click to Enlarge)
Fidelity National Financial did not believe that the mercurial Mr. Market was providing it with the proper valuation for its savvy investing arm, so last July it made the unique move to spin it off as a separate public company.  Rather than invest its float in public companies like many of the aforementioned insurers often do, Fidelity National Ventures often invests its cash in private companies.  Its's current stable of companies includes:

Ceridian Corporation, a leading global business services and software solutions company.

Digital Insurance, the nation's leading employee benefits agency specializing in insurance for small businesses and mid-sized companies.
But FNFV's bread and butter seems to be the restaurant business.  Through its subsidiary American Blue Ribbon Holdings, the company currently owns a number of restaurant chains with $1.3 billion in annual revenue and more than 690 company and franchise restaurants in more than 40 states.

One has to look no further than Shake Shack $SHAK and The Habit Restaurants $HABT to see that many publicly traded restaurant chains are being awarded extremely high multiples right now.  Investors may be able to take advantage of that trend by investing in Fidelity National Financial Ventures.  FNFV recently announced plans to spinoff the crown jewel of its restaurant portfolio, J. Alexander's.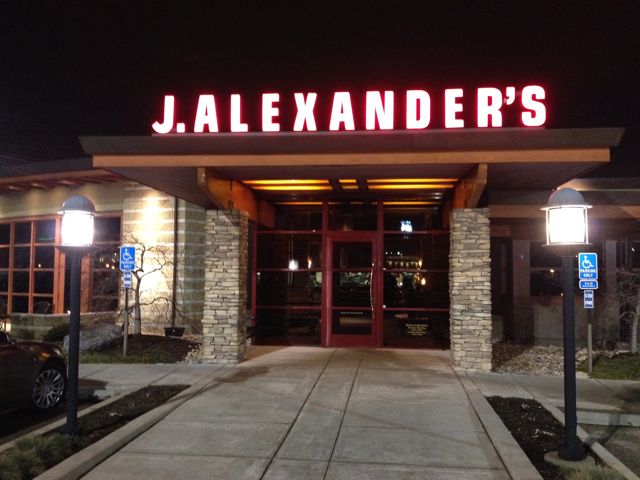 Owners aiming to complete J. Alexander's spinoff in Q3
https://www.nashvillepost.com/news/2015/5/6/owners_aiming_to_complete_j_alexanders_spinoff_in_q3
J. Alexanders owns and operates its namesake restaurant chain and another, smaller chain called Stoney River Legendary Steaks.  Fidelity Ventures originally had planned to conduct an IPO for the chain, but it changed its mind so that rather than dilute existing shareholders through a public offering it will spin off shares of J. Alexanders to current $FNFV shareholders later this year.
J. Alexanders is profitable and growing.  With operating margins for the most recent quarter coming in at 13% and adjusted EBITDA growing 11% year-over-year.  These numbers are set to improve as J. Alexanders grows and continues its active turnaround of the slower-growing Stoney River concept.
Fidelity National Financial Venture's stock looks fairly cheap, trading at only a tiny premium to its $14.69/share book value, and has performed well since becoming an independent public company, outperforming the S&P 500 19.5% to 7.8%, but to me the most attractive part is J. Alexanders.  A spinoff should help unlock some of J. Alexander's hidden value if it trades at multiples that are similar to its closest public competitor Ruth's Hospitality Group Inc. $RUTH or even better some of the recent hot restaurant IPOs.  I plan on holding onto my stake in $FNFV until the spinoff later this year. At which point I may add to the J. Alexander's position if it looks attractive and/or sell my position in $FNFV.