From 0.0% to 9.7%, the World's Greatest Secret Dividend Growth Story

In mid-2014 I came across possibly the best dividend growth story in the market today. Better yet, it's a secret. OK, it's not really a secret, but it's a small cap stock that is completely transforming itself that not many people are talking about.
Historically AdCare Health Systems $ADK has been in the business of acquiring and managing senior living facilities, i.e. assisted living facilities, independent living facilities retirement communities, etc... The company has not done a good job at managing its facilities, so the it decided to change its business model.  AdCare is in the midst of a transition, after which it will no longer manage these facilities, but instead it will own them and lease them out to operators who should be more competent. The company's senior living facility assets have value and I believe that value is not being fully reflected in the company's stock.
At the time this transition was announced, ADK did not pay a dividend. This move recently allowed the company to initiate one, $0.05/share.  That may not sound like a lot, but keep in mind that we are talking about a stock with a fairly low price per share of $4.13.  The $0.05 amounts to $0.20 on an annualized basis, for an initial yield of around 4.8%.  Yet even this yield is hidden from investors who are not familiar with the company.  It doesn't show up on many financial websites or screens.  For example, Yahoo! Finance shows that the company's dividend yield at only 1.2%.
Not only is the company's current dividend reasonably attractive...it plans to increase this dividend by $0.01 every quarter after that for "the forseeable future." If AdCare successfully executes this plan, it will have an annualized dividend of $0.40/share in Q1 2016 (this may have been pushed back a quarter or two since the initial announcement, but it's still in the works).  An increase like that would put its $ADK's dividend at a much more attractive 9.7% from today's price when things are all said and done.
Let's look at how this yield stacks up against similar companies:
CareTrust REIT, Inc. (CTRE): 4.7%
Sabra Health Care REIT, Inc. (SBRA): 4.8%
Health Care REIT, Inc. (HCN): 4.2%
Omega Healthcare Investors Inc. (OHI): 3.5%
Here's a key slide from the company's investor presentation about the transition which illustrates the dividend growth that $ADK is targeting: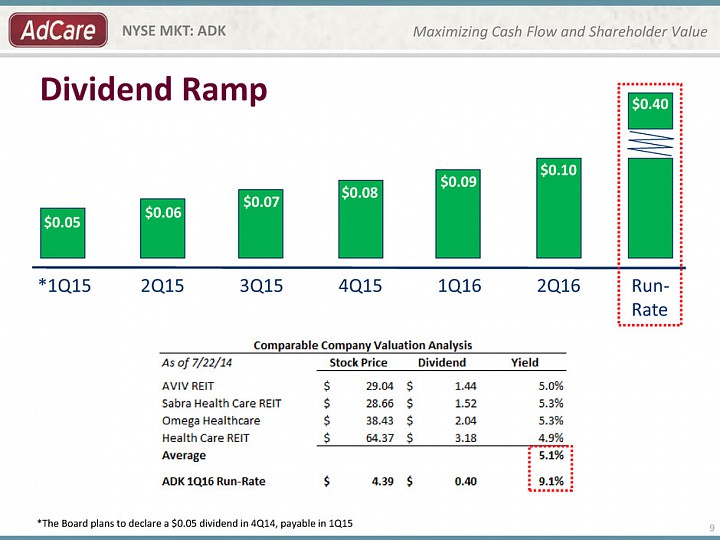 Once the full planned dividend is being paid, AdCare's stock would have to double to trade at a comparable yield to similar companies in the industry.  In essence, one gets paid a rapidly growing 4.8% current yield to wait for the stock to nearly double.  Even better, I believe that AdCare is a likely takeover target of a larger senior living REIT that wants to grow its empire.
As I mentioned in an article in this blog earlier this month (Hot off the Press, Big Special Situation News in the Senior Care Sector Could Lead to Big Gains) the healthcare REIT Ventas (VTR) announced that it is spinning off its Post-Acute/Skilled Nursing Facility Portfolio into a separate yet to be named company. I view this news as a major positive for the existing smaller REITs in the senior care sector. I currently own several of them, inclding CareTrust (CTRE), AdCare (ADK) and New Senior Investment Group (SNR). Ventas' new SpinCo, is clearly looking to grow. Here's a telling quote from the press release that announced the formation of the new senior care company:
"With a focus on the highly fragmented post-acute/SNF market, SpinCo will have the necessary size, balance sheet strength and access to capital to pursue significant consolidation opportunities."
As if the potential for this stock to double and a rapidly-growing weren't attractive enough already, as an added bonus the sector in which it operates, senior living, has tremendous demographic tailwinds. The population of 85 year-olds in the United States is forecast to grow from 1.5% of the total population in 2000 to 5.5% by the year 2050.  The retiring baby boomers who are 65 years-old today will be 85 years-old by the year 2035.  That's a huge potential customers base for senior care operators.
There's a few issues to keep an eye on with $ADK, including some past insider dealings with the Brogdon family that raised a red flag for me and some issues in the past with companies that the company's current Chairman and CEO Bill McBride has been at (he is no longer President), but I have been watching AdCare like a hawk since I purchased my position in the company and I have not seen any evidence of impropriety. Also, the company's cost of capital is very expensive, as evidenced by its recent 10.875% Series A Cumulative Redeemable Preferred Stock offering (ouch).  On the plus side, any potential acquirer could immediately make the company much more profitable by dramatically cutting its borrowing costs.
I love REIT conversions as a special situation investment.  REITs are usually afforded much higher multiples by the yield-hungry Mr. Market than non-REITs.  While AdCare has not officially announced plans to convert into a REIT its rapid dividend growth will enable the company to act like one.  So far the company's transition from a facility operator to an owner is going fairly smoothly, with 35 of its 40 facilities already leased out. Look for AdCare's huge dividend to attract investors once it begins to show up on financial sites and screens. Consolidation in the sector could lead to even larger gains in the stock over the next several years.
Here's the company's official announcement:
AdCare Announces Strategic Plan to Transition to a Facilities Holding Company
New Business Model Designed To Optimize Cash Flow and Unlock Shareholder
Value
http://finance.yahoo.com/news/adcare-announces-strategic-plan-transition-200100257.html
And even better its investor presentation on the transition (who doesn't like slides with pretty charts?)
http://www.sec.gov/Archives/edgar/data/1004724/000100472414000087/adkstrategicpresentation.htm