Mr. Market Hates Uncertainty, But Investors Can Profit From It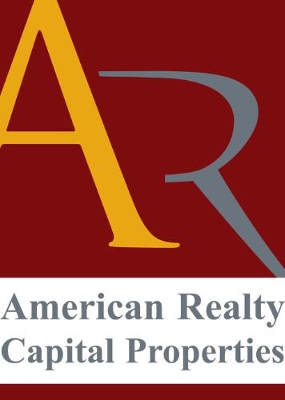 An accounting scandal, new management, lawsuits and...GASP...a REIT that doesn't pay a dividend. If there's one thing that Mr. Market hates, it's uncertainty...and American Realty Capital Properties $ARCP has it in spades.  I have been an on and off shareholder for the past couple of years.  I initially purchased shares of this formerly uber-fast growing REIT after its then head Nick Schorsch announced that the company planned to spinoff its strip mall properties into a separate public entity.  That sort of special situation is right up my alley.  The combined yield of the two companies was huge and I believed that they were significantly undervalued.
Only a few short months later, out of nowhere Mr. Schorsch pulled the plug on the spinoff and decided to sell the portfolio that was to be spun outright to another firm.  Why such an abrupt change?  So that ARCP could purchase a massive portfolio of land from...ready for it...Red Lobster?!?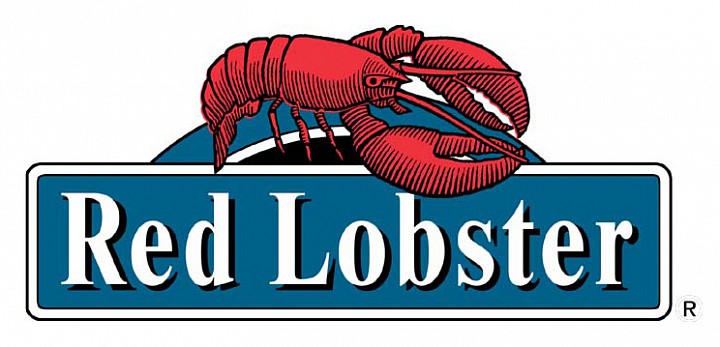 The guy essentially lied to investors, telling them not long before that the company was going to take a break from its rapid acquisition spree to assimilate its new assets and cancelled the company's previously announced spinoff to buy some very questionable property.  When I heard that, I was out.  I didn't trust ARCP's management any longer and I sold my position
Flash forward several months and BOOM, not surprisingly ARCP completely imploded.  The company announced that it was conducting an investigation that would likely result in a restatement of its past results.  Allegedly, Schorsch had been fudging certain metrics so that he and some fellow managers could earn even more money than the hundreds of millions of dollars that they already had.  Shortly after the investigation was announced, the company stated that it was temporarily suspending its dividend.  Real Estate Investment Trust investors are generally a conservative bunch to begin with, so when their main reason to own the stock, the yield, disappeared they headed for the exit in droves.  ARCP's stock experienced a massive selloff.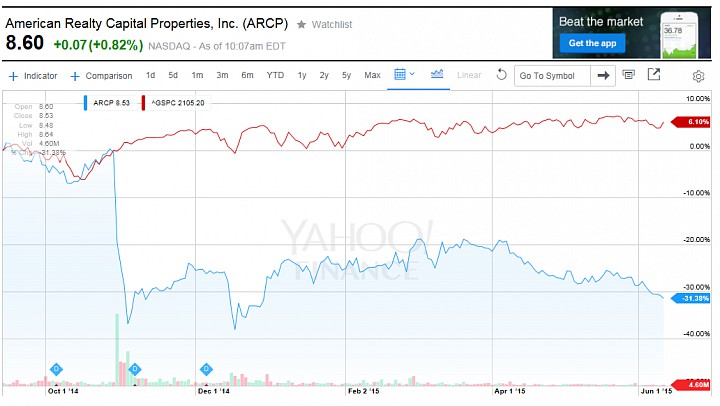 $ARCP vs. the S&P 500 from 9/15/14 to present (click to enlarge)
The selloff was extremely painful for investors who trusted ARCP's management, but it presented a very intriguing buying opportunity.
Despite the obvious shadiness of the accounting shenanigans, the people who were responsible for it are no longer with the company and the revisions to the past numbers were actually quite small.  ARCP has an extremely valuable stable of properties that throw off a ton of cash.  Its most recent quarterly results, reported in May, were solid.  The occupancy rate at the company's more than 4,500 properties was an enviable 98%+.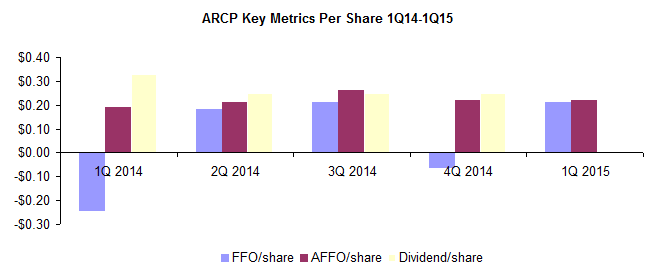 ARCP's stock has only gained +1.57% since I purchased back in in late October 2014 both with real money and in my on-line special situations portfolio versus a gain of +6.72% for the S&P 500.  Not great.  So if the company is still performing fairly well operationally, why hasn't its share price recovered?  It is currently trading for only 10.5x its adjusted funds from operations (AFFO), which is cheap by today's standards.
In keeping with the theme of my current series of articles, imminent catalysts, I believe that such an event is coming for ARCP.  The company's new management has stated that it will announce its new distribution policy in August of this year.  Once the dividend is reinstituted, traditional REIT investors should begin to return to the company, driving its stock higher.
So how large a distribution can ARCP afford to pay?  If its Funds From Operations continues at its current pace, it should have around $0.90/share to work with for 2015.  The question is, what percentage of its FFO will the company return to investors as a distribution?  At the low end, one could assume say 50% and at the high end 80% to use rough numbers.  That would put the company's annualized distribution at $0.45/share to $0.72/share...conservatively assuming that there is absolutely no growth.  At today's share price, that would put ARCP's yield at 5.2% to 8.3%.
How does that yield compare to some of ARCP's peers? Let's take a look:
Kimco Realty Corporation $KIM: 4.1% @ 63% of FFO
Realty Income Corporation $O: 5.0% @ 83% of FFO
National Retail Properties $NNN: 4.6% @ 78% of FFO
Regency Centers Corporation $REG: 3.1% @ 65.5% of FFO
All of the above numbers for the company's competitors are rough, back-of-the-envelope calculations.  As I always say, I'd rather be generally right than exactly wrong.  Still, provide us with an idea that with an expected yield range of 5.5% to 8% ARCP definitely seems to be undervalued.  Now one could argue that ARCP is more highly leveraged than many of its competitors so it deserves to trade at a discount.  The company's new management aims to rectify that.  At this week's NAREIT REIT Week conference ARCP's new CEO Glenn J. Rufrano stated that the firm is looking into divesting some properties to bring its debt ratio and credit rating more in line with its competitors.  Such a move would benefit the company with a lower cost of capital and theoretically higher multiples for its stock (source).
Now that the company's previous scummy management has been ousted, business at American Realty Capital Properties is slowly returning to normal.  With a key catalyst for the stock likely happening later this year, investors should hop on the ARCP train now and ride it to substantial capital gains and an attractive dividend.