Land and Buildings and Huge Investment Gains
While I never blindly follow anyone into an investment, activist investing hedge funds are often fertile breeding grounds for outstanding investment ideas.  Not only do these funds do all of the legwork for you by vetting thousands of companies for attractive opportunities, they also often purchase large enough stakes in them to agitate change.
I have compiled a growing list of activist funds that I follow to look for interesting new investment ideas.  One of the newer ones on my list is a fund called Land & Buildings.  The appropriately named activist fund was founded by a former Citigroup $C REIT analyst Jonathan Litt. Mr. Litt's new firm often takes activist positions in REITs in an attempt to get them to take actions that he believes will enhance shareholder value.  The best part of following an activist investor into a REIT is that one gets paid a decent distribution (I like to call them dividends, but anal folks will point out that REIT distributions technically are not dividends) to wait for the activist to unlock value in the company and hopefully cause its stock to soar.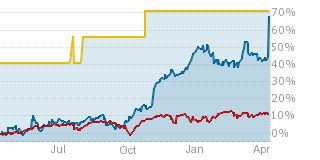 A one-year chart of $AEC (blue) vs. the S&P 500 (red)
Back in November of last year, I added a company called Associated Estates Realty Corp. $AEC to my on-line special situations portfolio.  My reason for adding it was Land &Buildings had taken an activist position in the company and was urging it to sell itself. 
"Associated should explore a sale to Litt or a private-equity buyer because its shares are cheap while appetite for apartment assets is strong, Litt wrote in a letter to the company's board today. Greenwich, Connecticut-based Land & Buildings took a 1 percent stake in Associated earlier this year, Litt said in an interview.
"I think a go-private is the the most logical way to go," said Litt, who plans raise the money to acquire Richmond Heights, Ohio-based Associated from undisclosed investors. "We feel confident that we would be able to submit a competitive bid to buy the company." "
Associated Estates Urged to Explore Sale by Shareholder Litt
http://www.bloomberg.com/news/articles/2014-06-03/associated-estates-urged-to-explore-sale-by-shareholder-litt
Sure enough, this morning AEC announced that it has agreed to sell itself to the famous Canadian asset management company Brookfield Asset Management $BAM (BAM itself is an interesting one to keep an eye on, lots of profitable spinoffs) for a 17% premium over yesterday's closing price and a 65% premium to Land & Buildings' cost basis.
Land and Buildings Comments on Sale of Associated Estates to Brookfield
Applauds Associated Estates Decision to Maximize Shareholder Value
http://www.businesswire.com/news/home/20150422006011/en/Land-Buildings-Comments-Sale-Estates-Brookfield#.VTe5p02PIy8
That's a very impressive return.  I did not capitalize on that entire gain in my on-line portfolio, but my position there did return +36.3% versus a gain of only +2.3% for the S&P 500 over the course of five months.  That's a pretty awesome return.  Alas, it was not with real money, but the trade was not without profit.  I profited from it because I learned that Land & Buildings is a fund to keep a close eye on.  So what positions is the fund in today that one might be able to profit from?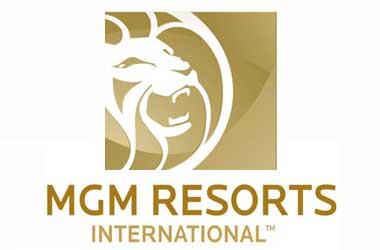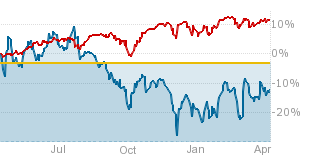 A one-year chart of $MGM (blue) vs. the S&P 500 (red)
The most prominent one in the news lately is Land & Buildings' activist position in MGM Resorts International $MGM. Land & Buildings believes that MGM's real estate portfolio is being vastly undervalued by the market.  It is urging the company to unlock this value by spinning off the property assets into a REIT.  Were the company to make such a move, Land & Buildings believes that its stock would be worth $33/share, versus a current price of just under $22.
MGM Resorts Urged to Pursue REIT by Land & Buildings' Litt
http://www.bloomberg.com/news/articles/2015-03-17/mgm-urged-to-pursue-reit-hotel-split-by-land-buildings-litt
MGM does not appear to be as receptive to Land & Buildings' plan as AEC was, but this is a situation to keep an eye on nonetheless.
To me another of Land & Buildings' positions represents a much more attractive investment idea, Starwood Hotels & Resorts Worldwide $HOT. According to the excellent website Whale Wisdom Starwood currently represents approximately 6.1154% (get it said approximately and then used a super precise number, oh investing humor hilarious...or not) of the fund's portfolio.  Late last week I wrote a post about how I have established a position in Starwood and described why I believe that it represents an extremely attractive investment opportunity right now.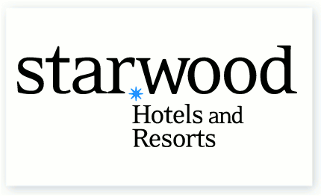 Tons of Interesting Catalysts Make Starwood Hotels & Resorts Worldwide HOT, HOT, HOT
http://tmfdeej.whotrades.com/blog/43838232601
I believe that there is a very good chance that funds like Land & Buildings convince Starwood to engage in some value-enhancing activity, possibly even a buyout, at some point over the next twelve months. I am long HOT with real money and am considering increasing the size of the position in the future.