Win a Free Copy of the Greatest Book on Investing Ever Written
The idea that one single book about a subject can be the "greatest" is obviously somewhat subjective, but in my opinion the greatest single book ever written about investing is the classic with the funny name, You Can Be a Stock Market Genius by Joel Greenblatt.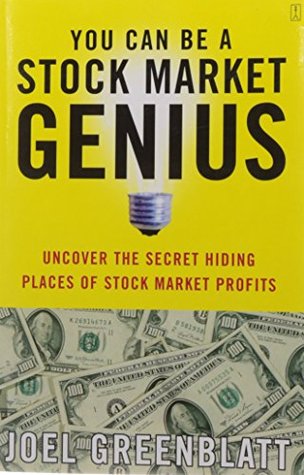 I love to share the book with others.  I've bought copies for friends, my father, even my 10 year-old son.  Now I'm going to buy a copy for a stranger.  In an effort to encourage the sharing of investing ideas here on the new Special Situation Investing Community that I have created here, I am launching a contest that will give a free copy of the book to people who comment here.  Share an investing idea, share a link to an article about investing or a write-up, share your thoughts on someone else's idea.  It doesn't matter what you say, just participate.  Let's get some chatter going.  Ultimately, I'd love to see this become a place like a troll-free version of the Yahoo! Finance message boards or a less restrictive version of the famous Value Investors Club where people who love to talk about investing can come to share their thoughts.
If this works out, I'll select a different book from a long list of my favorites and we'll do it again next week. The Internet is a powerful tool that we can all use to work together to become better investors.  So post away.  
If you haven't already, make sure to click on the link at the top of the page to join this new special situation investing community. Doing so will enable you to receive notification when new articles are published here and to share your own ideas. Also, make sure to follow me on Twitter @TMFDeej.
https://twitter.com/TMFDeej
Disclaimer: This is the part where the fast-talking announcer reads the fine print.  I will run the contest for a week, today through market close on July 21st. One post per day will count as an entry to the contest. So if you post all seven days, you get seven entries. Whoever posts the most wins the coveted prize. In the event of a tie, I'll use a random number generator to select a winner.