Secondary Offerings at MLPs Often Present Fantastic Buying Opportunities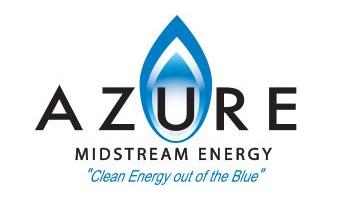 As I have mentioned in the past, every day I sift through the list of the market's biggest losers looking for overreactions to news that could potentially create attractive buying opportunities.  I believe that I found one yesterday in Azure Midstream Partners $AZUR. Yesterday the relatively new MLP announced a large secondary stock offering that caused its stock to tank by over 10%.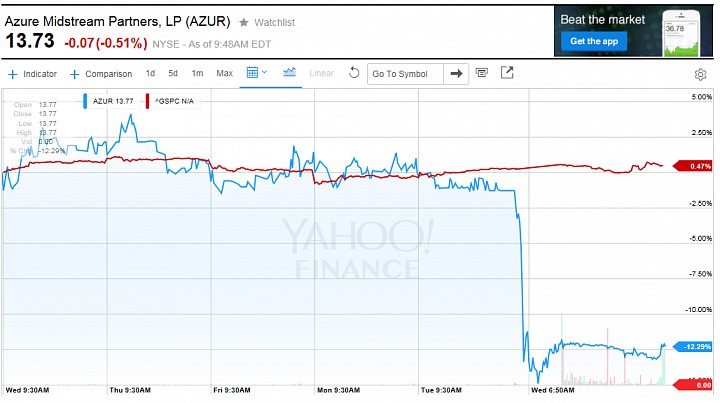 A one-week chart of $AZUR vs. the S&P 500 (click to enlarge)
Azure Midstream Partners, LP Prices Public Offering of 3,500,000 Common Units
http://finance.yahoo.com/news/azure-midstream-part...
The basic structure of yield instruments like REITs and MLPs requires them to pay out the majority of their earnings to investors as distributions.  As a result, in order to grow they usually need to sell new units.  Almost inevitably announcements of these secondary stock offerings cause the MLP that announces them to sell off.  Why do these stocks drop?  Because many investors view secondary offerings as dilutive to existing shareholders.  Plus prices are a function of supply and demand.  If there is an increase in the supply of a company's shares, the price will fall until there is an equivalent increase in demand for them.
Almost as inevitable as the selloff in MLPs that announce secondary stock offerings is the eventual recovery of their share prices.  As long as a company issues new stock from a position of strength and not as a result of an emergency liquidity crunch, the firm's hopefully savvy management can usually put the money that they receive from the offering to good use, causing the MLP's yield to eventually grow.
In conjunction with Azure's stock offering announcement, the company stated the following:
"Based on preliminary data for the quarter ending June 30, 2015, we expect to generate Adjusted EBITDA (as defined below) approximately 15% to 25% higher than our pro forma Adjusted EBITDA for the quarter ended March 31, 2015. However, as a result of increases in (i) interest expense due to increased borrowings in connection with the transaction with Azure completed on February 27, 2015 and (ii) maintenance capital expenditures due to our operation of the Legacy gathering system, we expect only a 10% to 15% increase in total distributable cash flow (as defined below) for the same period. As a result of the additional common units to be issued in this offering, we expect our distributable cash flow per unit for the quarter ending June 30, 2015 to approximate our distributable cash flow per unit for the quarter ended March 31, 2015."
In short, the company's operations have been so strong that even though it is issuing three and a half million additional shares, it will be able to maintain its current distribution to shareholders. At $0.37/share per quarter, that equates to a yield of 10.8% at today's share price.  That is a huge yield.  Yes, investors are fleeing MLPs and REITs in droves out of fear that the Federal Reserve is going to raise interest rates, but as I have been saying for a long time interest rates are going to rise much, much more slowly than most believe.  Not only that, but a number of historical studies have statistically proven that despite conventional wisdom, REITs and MLPs actually outperform when rates are rising.  People forget that they are not fixed-rate instruments like bonds.  MLPs have the ability to grow their distributions.  If the Fed is raising rates, it means that the economy is good and that MLPs should be able to grow even faster.
Now that we've established that secondary stock offerings at MLPs often present attractive entry points the question remains, what is Azure Midstream Partners and is it a good company?  The current Azure is actually a fairly new MLP.  It was created earlier this year through a combination of Marlin Midstream Partners $FISH and the former Azure.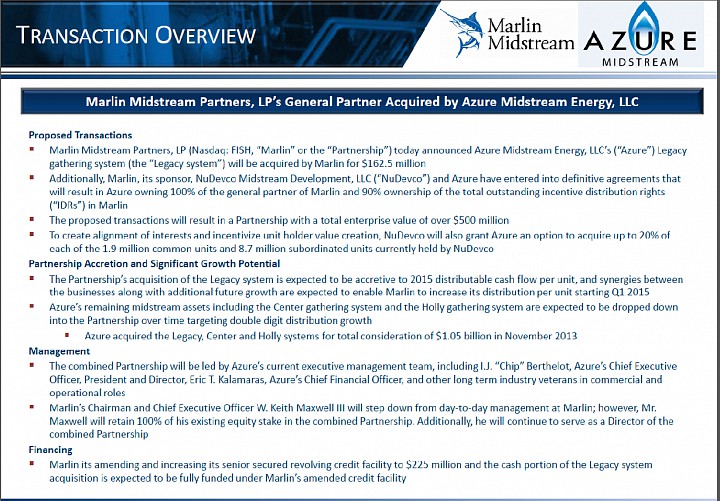 As you can see from this slide from the presentation that accompanied the announcement of the deal, there was solid reasons for and synergies resulting from the combination of the two companies.  The acquisition of Azure by Marlin was accretive to its 2015 distributable cash flow per unit.  Not only was the deal accretive, but it will result in significant future growth for the combined company as Azure's remaining midstream assets, including the Center gathering system and the Holly gathering system, are eventually dropped down into the partnership.  This will likely result in "double digit distribution growth."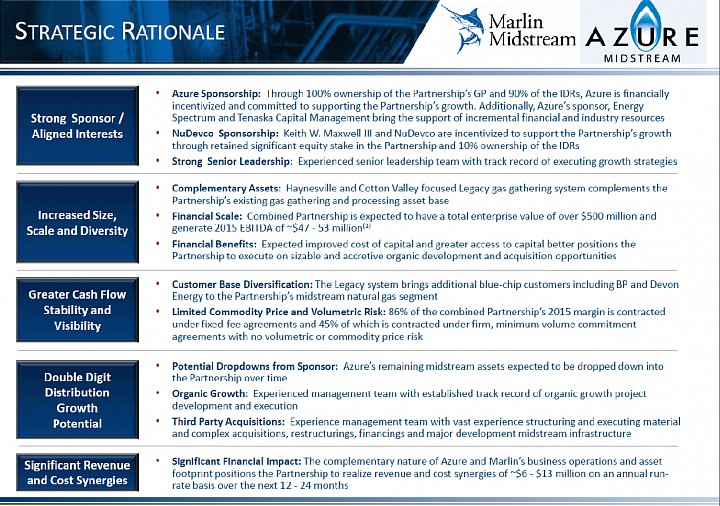 Some may be concerned about the commodity exposure of an oil and gas MLP, but remember that this is a mid-stream company not an E&P.  86% of the company's business is fee-based and not directly exposed to fluctuating commodity prices.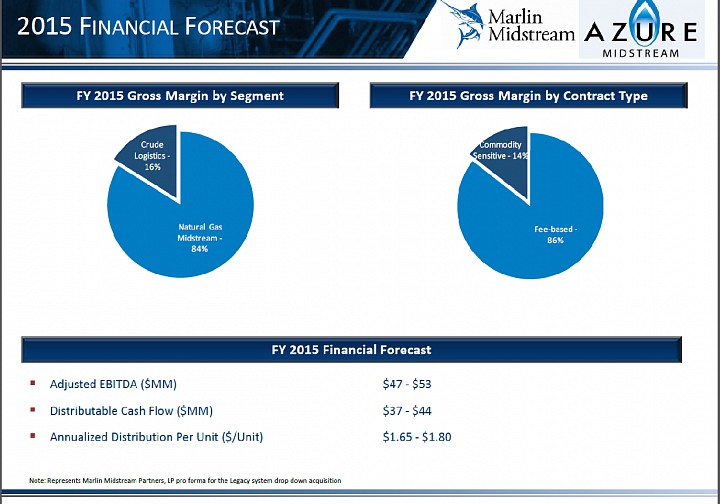 So essentially what we have in Azure is an MLP that yields well over 10% with a distribution that management believes will grow by double digits annually.  Picking up a position in the company seemed like a no-brainer to me, so I did so after yesterday's 10% drop.