Is the Recent Spinoff CableOne a Buy?...Special Situation Investing News - 9/25/2015

I had several conversations earlier this week about whether the recent Graham Holdings Corp. $GHC spinoff CableOne $CABO is an attractive buy at this level and I thought to myself, this would make a great topic for a post on the Special Situation News.  
First let's start with a little background, CableOne is a relatively small (compared to the new mega cable companies) provider of cable television, high-speed Internet and telephone services in 19 Midwestern, Western, and Southern states. On July 1st of this year, CableOne became an independent company after being spun-off from the company formerly known as the Washington Post, Graham Holdings. At the time of the spinoff, I felt as though the valuation for CableOne was fairly rich and its stock has only proceeded to increase since then.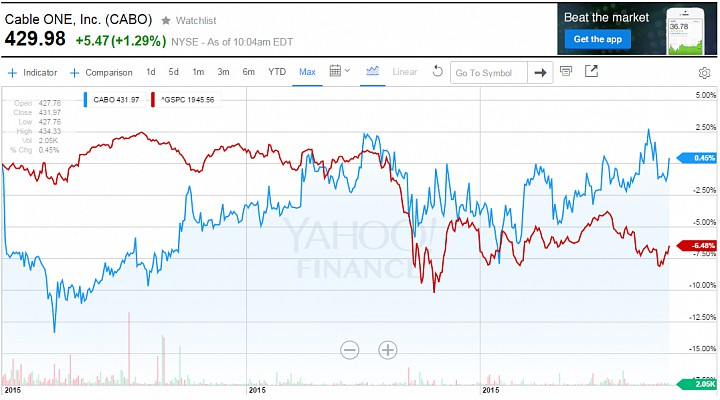 A chart of $CABO (blue) vs. the S&P 500 (red) since inception (click to enlarge)
I have owned Graham Holdings for around a year and received shares of CableOne in the spinoff.  At the time of the spin, I thought that with all of the consolidation in the cable industry, Cable One would be a natural takeover target for one of the larger fish in the industry.  However, I didn't suspect that a takeover would happen in the near future.  Companies that have been spun off have to be careful when evaluating takeover offers in order to not upset regulators and receive a nasty tax bill. In many instances takeovers of spun off companies don't happen for three years after they have become independent.
Even if CableOne was an allowed to be taken over, the question remains...is it trading at an attractive enough valuation for an acquirer to be interested in it?  The recent takeover of Cablevision $CVC by Altice $ATSVF provides us with an excellent industry comp to use to evaluate CableOne's current valuation.
Altice expands in U.S. with $17.7 billion Cablevision deal
http://finance.yahoo.com/news/cablevision-agrees-s...
I actually have discussed this subject with a number of people.  The first said that Cable One appeared cheap on a per-subscriber basis.  They claimed that Cablevision was bought out at a price of $5,700 per customer.  That certainly is cheaper than the $4,300 per customer that CableOne trades at.
My response to this was that I don't think that the price paid per subscriber is an accurate way to compare the Cablevision deal to what Cable One might be worth in a takeover because Cablevision has the highest revenue per customer in the industry by a decent margin. $2,100 per customer compared with CableOne's $1,200/customer (man Cablevision has been gouging me as a cable customer, grumble, grumble).
I suggested that perhaps a more appropriate measure would be the multiple of EBITDA paid. I heard on CNBC that Alstice is paying something like 10x EBITDA for Cablevision. According to Yahoo! Finance, the Trailing Twelve Month EBITDA for $CABO is $291.13M. If we divide the company's 2.89B Enterprise Value by that we come up with an EV/EBITDA ratio of 9.9x. Which unfortunately is not that much cheaper than the Cablevision buyout.
The CableOne bulls counter the high valuation argument with the statement that Cablevision is more of a mature cash cow and CableOne is more of a growth company. That $CABO is <5% penetrated in enterprise business high speed data. Furthermore, Cablevision faces stiff competition from Verizon's FiOs product while CableOne is in much more rural areas and it doesn't have much competition, allowing it to raise prices from its much lower cost per subscriber right now.
Sure enough, a day or two after this discussion, CableOne came out with the following interesting press release:
Cable ONE Announces HSD Rate Increase
http://finance.yahoo.com/news/cable-one-announces-...
It announced that it will raise prices by $5 per month.  Normally one would think that a cable company would not want to rub the fact that it is raising prices in its customers' faces by issuing a press release on the subject, but I think that CableOne did so because A) it realizes that it needs to convey the message to investors that it will be able to grow and B) it doesn't have any competition so who cares what customers think anyhow :).
My counter to the CableOne growth argument was that recently its reported numbers have shown absolutely no evidence of impressive growth and that I would believe it when I saw it.  Furthermore, even if this is a growth story, I am more of a value investor than what CableOne would be...a GARP investment (Growth At a Reasonable Price).
Another argument CableOne bulls make is that with Debt/EBIDTA at only 1.8x compared with an industry average of 3x, the company is extremely underlevered compared to its peers.  I agree with that statement, however I don't think that it levering up just to repurchase its own expensive stock is a prudent use of capital.  I be very intrigued if CableOne was to increase its leverage to make accretive acquisitions though.
The more I think about the Cablevision comp, the more I personally believe that Cable One is pretty fully valued at today's price. I personally liquidated my position in CableOne very recently.  This still makes for a very interesting discussion.  I'd love to hear others' thoughts on the subject in the comments section below.
On a related note, just this morning I came across a timely article on CableOne over at the Punch Card Investing blog.  It's an excellent read for anyone who is interested in learning more about this situation:
Cable One: A Starkly Different Approach to The US Cable Industry
https://punchcardblog.wordpress.com/2015/09/24/cab...
And now for the rest of the Special Situation Investing News:
.
Spinoffs:
Bye Fidelity- Restaurant Anti-Chain J Alexander To Be Spun Off Next Week
http://www.stockspinoffs.com/2015/09/25/bye-fideli...
.
REIT Conversions:
There's no way this would be allowed. Could Sprint, T-Mobile Form a REIT, Then Merge?
http://www.barrons.com/articles/could-sprint-t-mob...
A Sprint, T-Mobile REIT Is A Bad Idea
http://seekingalpha.com/article/3528996-a-sprint-t...
No Swimming in these Waters Warns the IRS
https://specialsituationnews.whotrades.com/blog/43...
.
Mergers / Merger Arb:
Sprint could be 'formidable' after merger with cable company, CEO says
http://www.reuters.com/article/2015/09/24/us-sprin...
Williams to consider revised Energy Transfer offe
http://www.reuters.com/article/2015/09/23/us-willi...
Energy Transfer Equity Is Closing In On A Deal For Williams
http://seekingalpha.com/article/3533056-energy-tra...
Insurance Deals Gather Momentum Amid Cost Squeeze
http://www.wsj.com/articles/insurance-deals-gather...
Health Insurance Mergers: Aetna and Anthem Win Over Politicians
http://blogs.wsj.com/moneybeat/2015/09/23/health-i...
Canaccord Ups BioMed Realty To Buy On Potential Blackstone Buyout
http://blogs.barrons.com/stockstowatchtoday/2015/0...
BioMed Realty Appears Ripe For Takeover
http://www.forbes.com/sites/bradthomas/2015/09/23/...
Joining The $SWAY! Starwood Waypoint Trust To Merge With Colony American Homes
http://www.stockspinoffs.com/2015/09/24/joining-th...
Lockheed says U.S. approves its $9 billion takeover of Sikorsky
http://www.stockspinoffs.com/2015/09/25/bye-fideli...
Diamond Foods higher on report of sale efforts
http://seekingalpha.com/news/2795366-diamond-foods...
Of would-be $1B fees, trips to Omaha & hardball negotiating: Behind scenes of Precision-Berkshire deal
http://www.bizjournals.com/portland/morning_call/2...
Office Impasse: Office Depot/Staples Merger On The Verge Of Getting Shredded
http://www.insidermonkey.com/blog/office-impasse-o...
.
Activist Investing:
U.S. companies quicker to give board seats to activists
http://www.reuters.com/article/2015/09/25/us-hedge...
. 
Investment Write-Ups:
After the media sector's 'big bang,' a bargain stock emerges
http://finance.yahoo.com/news/after-the-media-sect...
Ashland Seen Valued at $153 a Share
http://www.barrons.com/articles/ashland-seen-value...
Why Caterpillar Can Drop 60%
http://blogs.barrons.com/stockstowatchtoday/2015/0...
James Tisch Investment Philosophy and Some Thoughts on Loews
http://basehitinvesting.com/james-tisch-investment...
Hargreaves Services Plc. Hidden Asset valuation
http://frenzel-herzing.com/hargreaves-services-plc...
Is Something Wrong With Physicians Realty Trust? Or Is It A Bargain?
http://seekingalpha.com/article/3529876-is-somethi...
. 
Bonds:
Investors See Big Yields Brewing in AB InBev-SABMiller Deal
http://www.bloomberg.com/news/articles/2015-09-24/...
.
Other Investing News:
Huh? This will not end well. Pivoting after failed Syngenta bid, Monsanto to build big data business
http://www.reuters.com/article/2015/09/24/us-monsa...
The Plot Twist: E-Book Sales Slip, and Print Is Far From Dead
http://www.nytimes.com/2015/09/23/business/media/t...
A Big Bet That China's Currency Will Devalue Further
http://www.nytimes.com/2015/09/24/business/dealboo...
DHANDO INVESTOR MEETING 2015 – A DAY WITH MOHNISH PABRAI
http://frenzel-herzing.com/dhando-investor-meeting...
Billionaire builds Hamptons mansion -- on land bought from boss who snubbed him!
http://www.telegraph.co.uk/news/worldnews/northame...
$SMLP -18%, Energy Capital Said to Seek Buyers for Stake in Summit Midstream
http://www.bloomberg.com/news/articles/2015-09-23/...
.
Thanks for reading. If you liked the article (or even if you didn't but are just feeling particularly generous), please give it a thumbs up or comment below...it only takes a second.
Also, if you haven't already, make sure to click on the link at the top of the page to join this new special situation investing community. Doing so will enable you to receive notification when new articles are published here and to share your own ideas.
Lastly, make sure to follow me on Twitter:
https://twitter.com/SpecialSitNews
Have a great weekend!