This Sponsor Is Ready to Create Another Profitable SPAC for Investors
Special Purpose Acquisition Companies (SPACs for short) can be very interesting special situation investments.  Some of them go on to produce amazing returns for investors and some of them, not so much.  One of the keys to finding a SPAC that will beat the market is to look for ones that are sponsored by organizations who have sponsored successful SPACs in the past.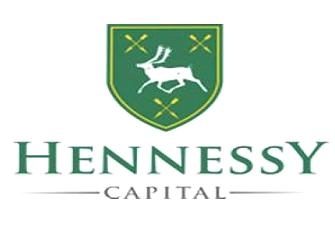 One such success story is Hennessy Capital.  In February of this year, a fund created by Hennessy, the eponymous Hennessy Capital Acquisition purchased School Bus Holdings, Inc. aka Blue Bird Corporation from an affiliate of the private equity firm Cerberus Capital.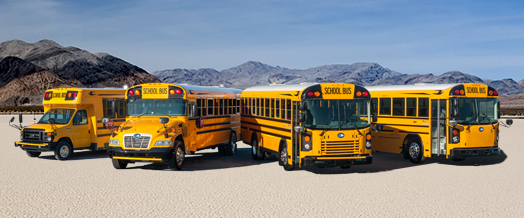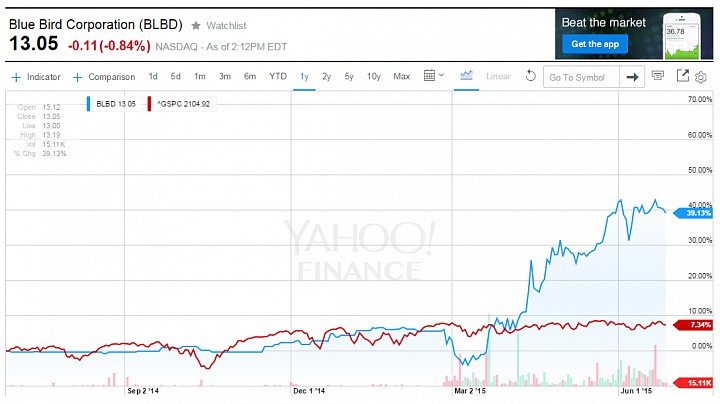 A one-year chart of $BLBD (blue) vs. the S&P 500 (red) (click to enlarge)
As you can see from the above chart, that deal has worked out very well for shareholders of the SPAC thus far, with shares of Blue Bird $BLBD handily outperforming the S&P 500 since the deal was announced.
Hennessy Capital is now on the lookout for another deal after having created, not surprisingly, Hennessy Capital Acquisition II. Details of the new SPAC were announced earlier this week.  It will trade on the NASDAQ under the ticker symbol $HCACU.  Hennessy Capital plans to raise $175 million for the SPAC by selling 17.5 million units at $10 each. As is par for the course, each initial unit will consist of shares in the SPAC as well as a warrant.  The warrant will enable $HCACU shareholders to buy 0.5 shares of common stock at $5.75 each.
Hennessy Capital Acquisition II has the stated goal of looking for an acquisition in the industrial manufacturing, distribution or services sector in the United States valued at $500 million to $1 billion.  That's pretty vague, but the SPAC's sponsor clearly seems bullish on the United States in general and manufacturing here in particular.  From the prospectus:
"We believe that an industrial "renaissance" is now underway in the United States and that this resurgence is primarily the result of three critical cost factors: (i) a stable and flexible labor market, (ii) cheap and abundant sources of energy and (iii) logistical factors such as shipping costs and the various risks of operating extended global supply chains, each of which we believe is quite favorable to the United States when compared with advanced manufacturing nations and increasingly competitive when compared with emerging manufacturing nations.
According to the Boston Consulting Group, or BCG, the manufacturing-cost gap between the U.S. and other highly developed economies widened significantly over the last decade. Stable and efficient labor is one key to growing the U.S. competitive advantage. The U.S. has one of the world's most flexible labor markets and has the highest worker productivity among the world's largest exporters by far. Adjusted for productivity, U.S. labor costs are 20% to 54% lower than those of Western Europe and Japan for many products. Productivity-adjusted wages have grown only 8% in the U.S. from 2004-2014 while such wages have almost tripled in China.
In addition to the benefits of its labor force, the U.S. also has an energy cost advantage. While industrial prices for natural gas have risen around the world, they have decreased by approximately 50% in the U.S. since the recovery from underground shale deposits began in earnest. Natural gas currently costs more than three times as much in China, France and Germany than in the U.S., and nearly four times as much in Japan. Natural gas is used increasingly as a fuel in U.S. power plants, which is likely to ensure that the price of industrial electricity will remain between one-quarter and two-thirds of the cost of electricity in major exporting nations such as China, Japan, Germany, France and Italy. We believe cheap natural gas will give the U.S. a powerful and unique cost advantage that will benefit a wide variety of industries across the full value chain, from feedstock to finished goods, and should be largely exclusive to the U.S. for the foreseeable future.
When taking all of this into account, the U.S. has emerged as the lowest-cost manufacturing location in the developed world, and at the same time, has achieved approximate cost parity with low-cost countries in Eastern Europe. The cost gap with China has shrunk dramatically, and, if the trend of the last ten years continues, will likely disappear before the end of the decade.
We believe these factors are further compounded when adding logistical factors to the decision making process. Factors such as shipping costs, the various risks of operating extended global supply chains, just-in-time inventory requirements and shorter product life cycles necessitate that production and end-markets be co-located. According to BCG, the U.S. and Mexico are the "rising stars" of the top 25 export economies because of low wage growth, sustained productivity gains, stable exchange rates and significant energy and electricity cost advantages."
The fact that Hennessy Capital Acquisition II is looking for an acquisition that is involved in manufacturing makes sense, given Mr. Hennessy's extensive history in the sector.  Anyone who would like more information on this new SPAC should take a look at the prospectus:
Hennessy Capital Acquisition Corp. II Prospectus
I do not currently own shares of $BLBD or Hennessy Capital Acquisition II, but I plan to keep an eye on the latter to see what it buys. If I like what I see, I may establish a position in the future.
Thanks for reading and commenting. If you haven't already, make sure to click on the link at the top of the page to join this new special situation investing community. Doing so will enable you to receive notification when new articles are published here and to share your own ideas. Also, make sure to follow me on Twitter 
https://twitter.com/TMFDeej