After Failed Syngenta Takeover Bid, Stay Far Away From Monsanto

This past spring, word leaked that the controversial agricultural chemical and seed company Monsanto $MON had approached its Swiss rival Syngenta $SYT with a takeover bid.  After the two companies went back and forth on price for several months, Monsanto finally decided to give up its pursuit of Syngenta in late August.  Naturally, shares of Syngenta fell dramatically on the news that the potential deal had fallen apart: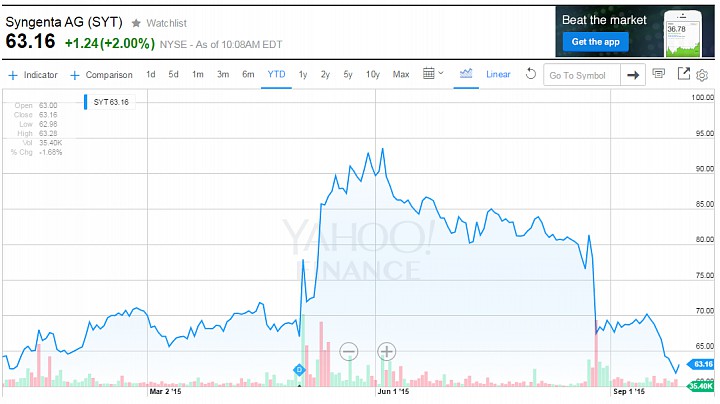 A year-to-date chart of $SYT (click to enlarge)
Interestingly though I personally believe that it was Monsanto's shareholders who will ultimately suffer the most as a result of the failed merger.  Struggling with declining or stagnant sales from many of its key products, Monsanto announced a bold and possibly ill conceived strategy change after the Syngenta deal collapsed:
Pivoting after failed Syngenta bid, Monsanto to build big data business
http://www.reuters.com/article/2015/09/24/us-monsanto-big-data-exclusive-idUSKCN0RO0B020150924
Monsanto's leaders believe that the company's path to future growth lies in transforming itself into a data company.  According to Monsanto's Chief Technology Officer Robert T. Fraley:
"We transformed from industrial chemical company to a biotech company, then to a seeds company," Fraley said. "Now, we're transforming again."
While the full details of the company's new initiative will not be unveiled until a major presentation in November, Monsanto has already begun meeting with potential technology acquisition targets.  The idea is that Monsanto will be able to combine its existing agricultural chemical and seed products with hardware and software that will enable farmers to increase their crop yields.  While this sounds good in theory, there is a number of reasons why the move might not pay off for Monsanto shareholders.
To begin, farmers are notoriously thrifty and are often reluctant to pay for data like the new products that Monsanto wants to pitch.  It makes sense that farmers are conservative in what is traditionally a boom and bust industry.  Farmers need to save the money that they make in good years so that they have funds for a rainy day...or in the case of farmers a not so rainy day when crop yields and / or prices are low and they aren't as flush with cash.
Furthermore, even with farmers' reluctance to pay for data it's not as if Monsanto is breaking any new ground here.  The agricultural data field is already extremely crowded with competition from a number of players including DuPont Pioneer, WinField Solutions and even Syngenta.
Lastly, this move is a very dramatic shift from the direction that Monsanto was trying to sell its and Syngenta's shareholders for the combined company only a few short weeks ago.  It remains to be seen whether this massive $39 billion behemoth be able to turn on a dime and change strategies so quickly.
Even though Monsanto's stock is currently sitting at a multi-year low, I believe that more pain is in store for its shareholders: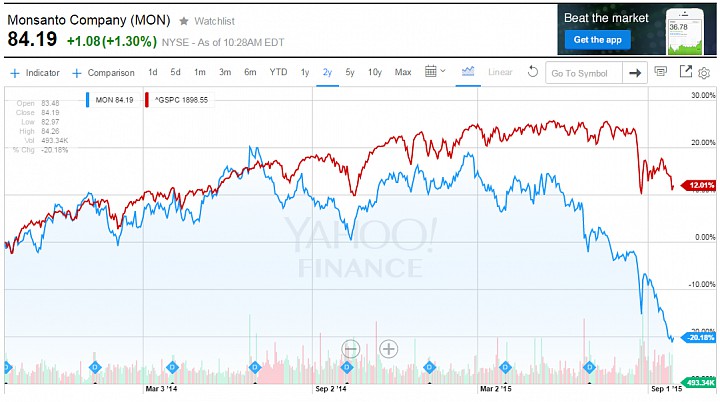 A two-year chart of $MON (blue) vs. the S&P 500 (red) (click to enlarge)
In addition to the questions surrounding this abrubt strategy shift, Monsanto faces a number of issues that could cause its stock to drop further, including:
A drop in sales of one of its key products, Roundup herbicide, as questions about how healthy it is to consume, a loss of effectiveness as glyphosphate-resistant weeds begin to spread and increased competition in the sector from new products by Dow AgroSciences $DOW.
A shift in consumers' eating habits away from GMO aka Genetically Modified foods.
A struggling agricultural sector that is dealing with a huge drop commodity prices.
A stronger U.S. dollar that hurts the company's earnings.
Weak results in the company's current foray into the data sector. Thus far, Monsanto's entries into the agricultural data field have not been profitable. Climate Corp., Monsanto's weather forecasting arm that it acquired in 2013 is used by farmers who till an impressive 22% of the farmland in the United States...but most of that usage is for free services. Only a paltry 1.5% of the farmland in the U.S. is farmed by paying customers.
Add all of these factors up and it would probably be wise for investors to avoid putting money in Monsanto until its stock becomes a lot cheaper.  Is it possible that Monsanto will succeed in turning the ship around?  Of course, but to me the risks outweigh the rewards in this situation.